Installation:Grapefruit and a Slipper
Materials:Grapefruit and a Slipper
Location:The Refrigerator in Room 2630

My inspiration came while I was trying to put irrelevant things together. I tried to combine grapefruit peel and slippers to see what will happend.
我的灵感来源于,我想把看起来非常不相干的事物组合在一起。于是我选择了柚子皮和拖鞋,想看看他们的组合可以呈现出什么样的效果。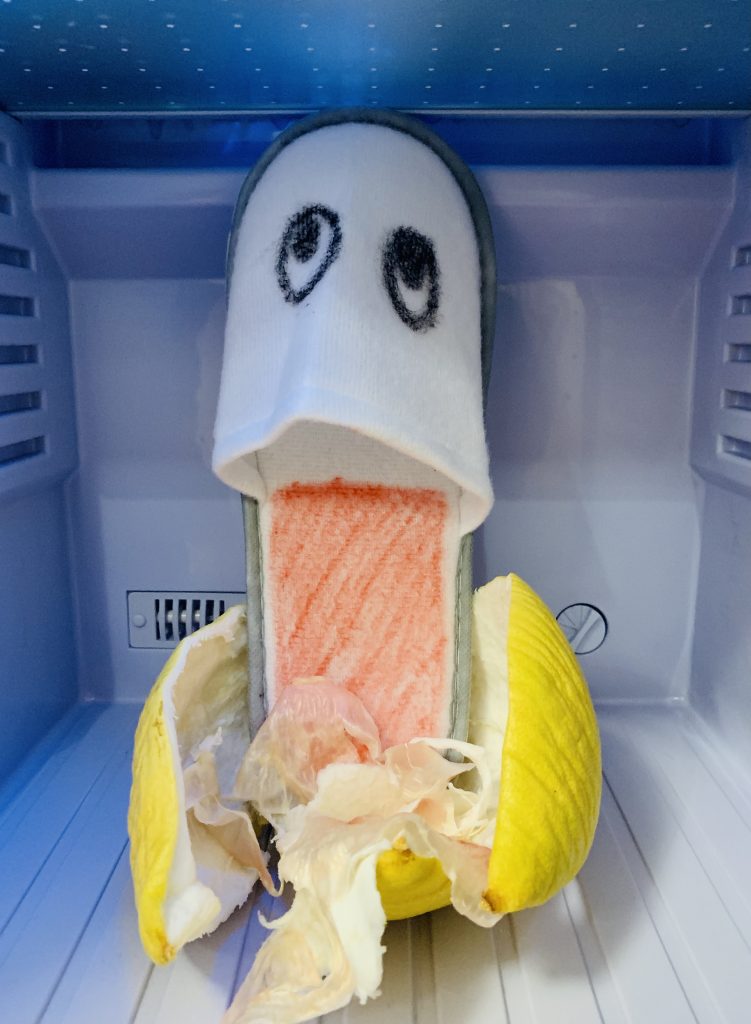 Their combination triggered me to think about a man with his tongue sticking out. So I drew eyes and a tongue on the slipper. The grapefruit peel is just like the "garbage" left by the person who has just finished eating.
当我尝试把柚子皮和拖鞋组合在一起的时候。我感觉拖鞋像一个正在吐着舌头的人。于是,我在拖鞋上画了眼睛和舌头。而柚子皮就像是这个图者舌头的人,刚刚饱餐完之后留下的"垃圾"。
The refrigerator was chosen as the location of this artwork because people normally don't put slippers in the fridge.
选择冰箱作为装置的地点,是因为冰箱是和柚子皮和拖鞋不相关的地方。一般我们只会把新鲜的食物放在冰箱里,不会将果皮放在冰箱里。人们也不会把拖鞋放在冰箱里。