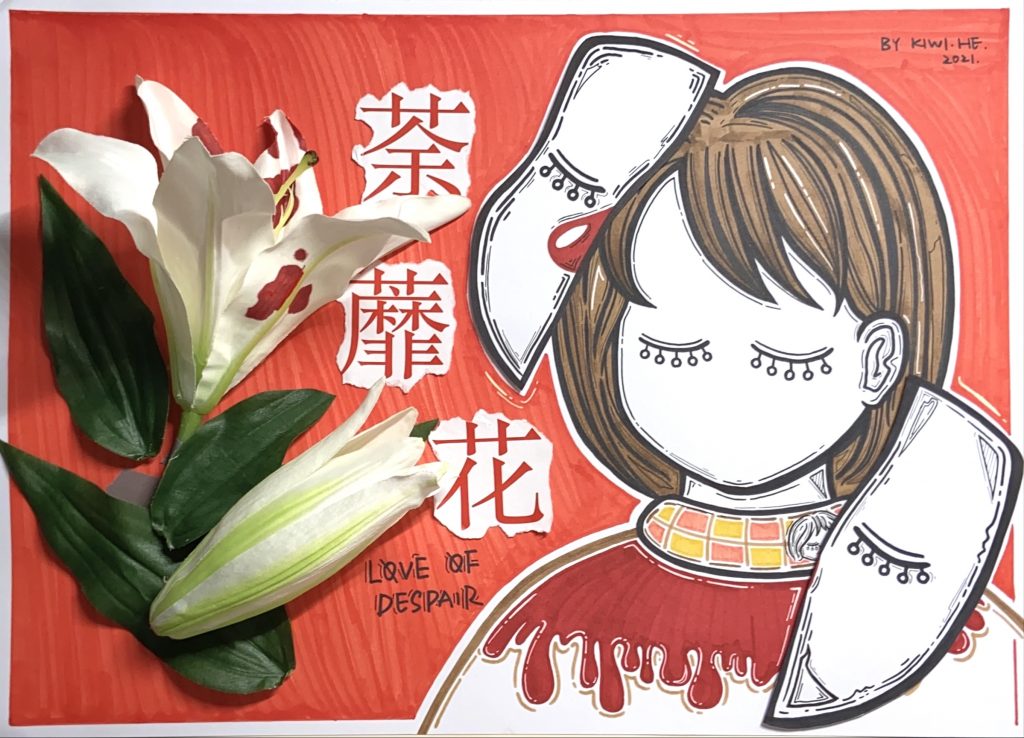 荼蘼花
Love Of Despair
Drawing + Editing+Writing:Kiwi He
Special thanks to Mowen and Cherry
每段文字的下方是属于这一段的配图
"蝴蝶效应"
连锁效应的其中一种,其意思即一件表面上看来毫无关系、非常微小的事情,可能带来巨大的改变。此效应说明事物发展的结果,对初始条件具有极为敏感的依赖性,初始条件的改变,将会引起结果的极大差异。
One of the phenonenons under the Domino Effect is the Butterfly Effect. It is characterized by small, seemingly insignificant events, bringing humongous change. This effect shows the results of the development of events, the sensitivity and dependence of events on their starting requirements, and how the changing of those requirements can lead to drastic differences between the results.
蝴蝶翅膀的运动,导致其身边的空气系统发生变化,并引起微弱气流的产生,而微弱气流的产生又会引起它四周空气或其他系统产生相应的变化,由此引起连锁反应,最终导致其他系统的极大变化
The movement of the butterfly, causing the air around it to be affected, will cause the slightest of air currents, and from this, will result in the environment and other systems around it changing, causing a domino effect, eventually leading to drastic changes in other systems. 
————————————————————————————————————
"今日,本市一座学校发生学生自杀事件,该女生于13日晚上21点三十分确认死亡——"
余下的声音我再也听不见了,只有老旧的电视机变成花屏之后的滋啦滋啦
哈雅是我的女儿,她在昨天被确诊死亡。
"Today, there's been a case of a schoolgirl committing suicide at a school. The schoolgirl was diagnosed and confirmed to be dead on the 13th, at 9pm-"
The rest I couldn't hear, just the static from the old television after the screen turned into static snow. 
Haya is my daughter, she was diagnosed to be dead yesterday.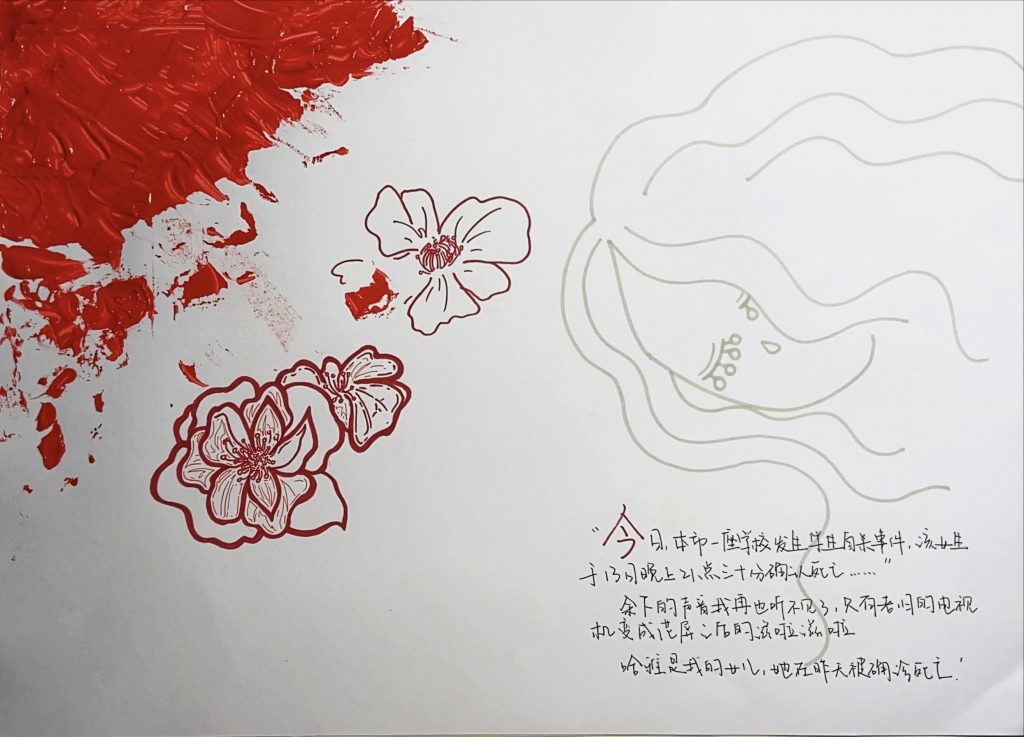 现在是14日早上8点零五分,电视机一如既往的播放早间新闻。
我微微抬头便能看见晾在丈夫发黄的白汗衫旁没有取下来的,红色裙子。
啊,这已经是前天洗的衣物,到今天都忘了收;哈雅的裙子还没烫好。
她总唠叨说不喜欢这条裙子,早知道上个月就买给她牛仔裤了
It's the 14th, 8:05 in the morning. The TV is playing the morning news, as usual. 
I lift my head slightly, to see my husband's yellowed sweatshirt drying outside, next to the red dress that hasn't been taken down. 
Ah, these are the washed clothes from the day before yesterday, it's been two days, they still haven't been taken down; Haya's dress isn't ironed either. 
She always complained about not liking this dress, I should've gotten her the jeans she wanted last month.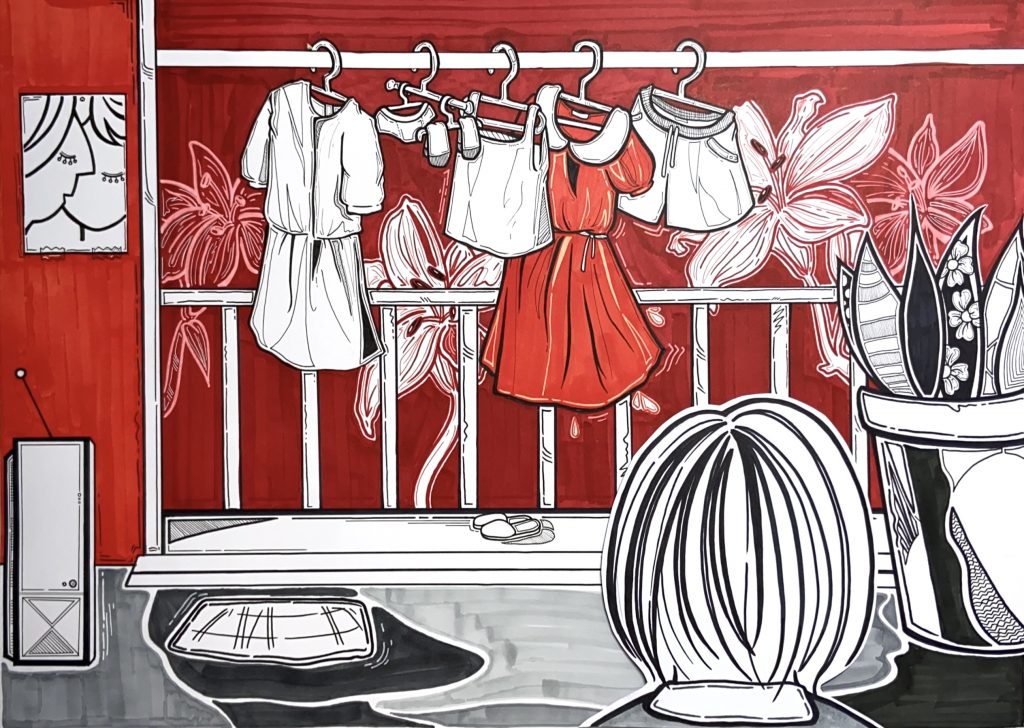 我便出门给哈雅买牛仔裤,像往常一样,我穿着烫洗整洁的衣服,对着镜子梳妆完毕。帮我取货的店员却反复用奇怪的眼神盯着我,我试图冲她笑,却觉得肌肉有些僵硬,她看上去更惶恐了。
店员转身的时候碰倒了玻璃水杯,拨出去的水打湿了离柜台最近的白色连衣裙,店员骂骂咧咧的弯腰去捡杯子,不留神碰到了我的手臂,我的手指便被攥在手里剪标签的剪刀划伤了。
店员慌了神一个劲儿像我道歉,但是在繁杂拥挤的成衣店,我手指上伤口挤出来的血珠很是醒目。
I go out to buy the jeans for Haya, as usual, I am wearing neat, ironed clothes, dressing up facing a mirror. The salesgirl keeps looking at me weirdly. I try to smile at her, but the corners of my mouth feel stiff, she looks scared now. 
The salesgirl turns and knocks a glass of water, which spills onto the white dress nearest to the counter. The girl grumbles as she bends to pick the cup up, but accidentally cuts my arm with the scissors in her hands she uses to cut tags off. 
She hurriedly apologises to me, but in the crowded clothes store, the beads of blood, squeezed out of my fingertips, catches my attention.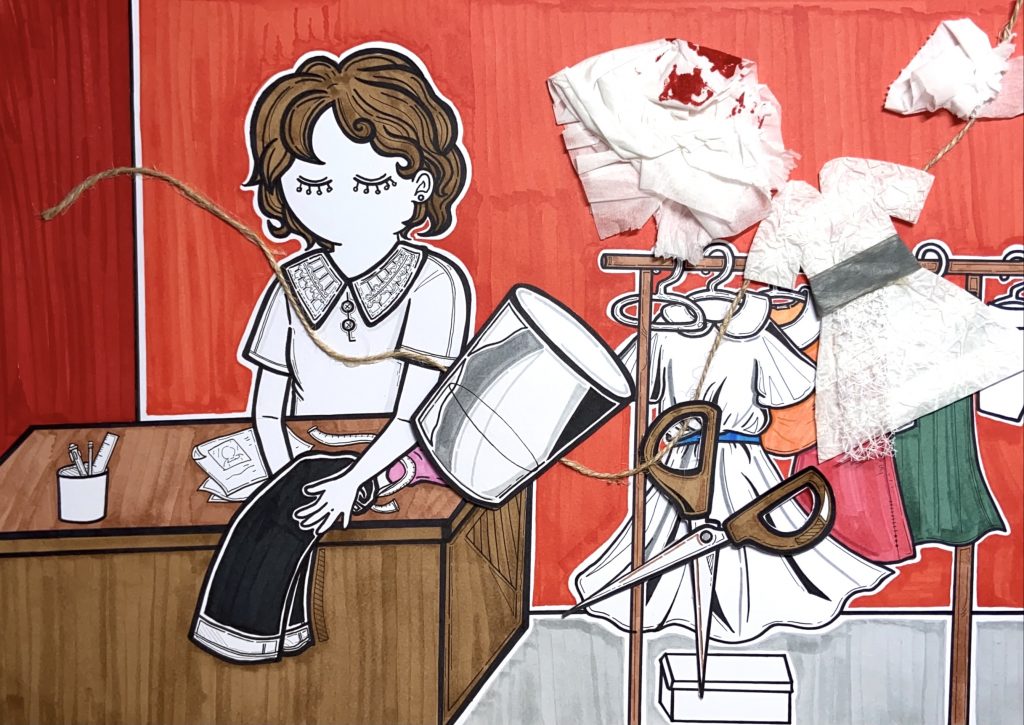 我又出神了,想到了我昨晚的梦,梦中的哈雅从楼上一跃而下,染红了一丛黑色的百合。
I spaced out again. I remember the dream I had last night, Haya leaped off the building, staining a cluster of black lilies, red.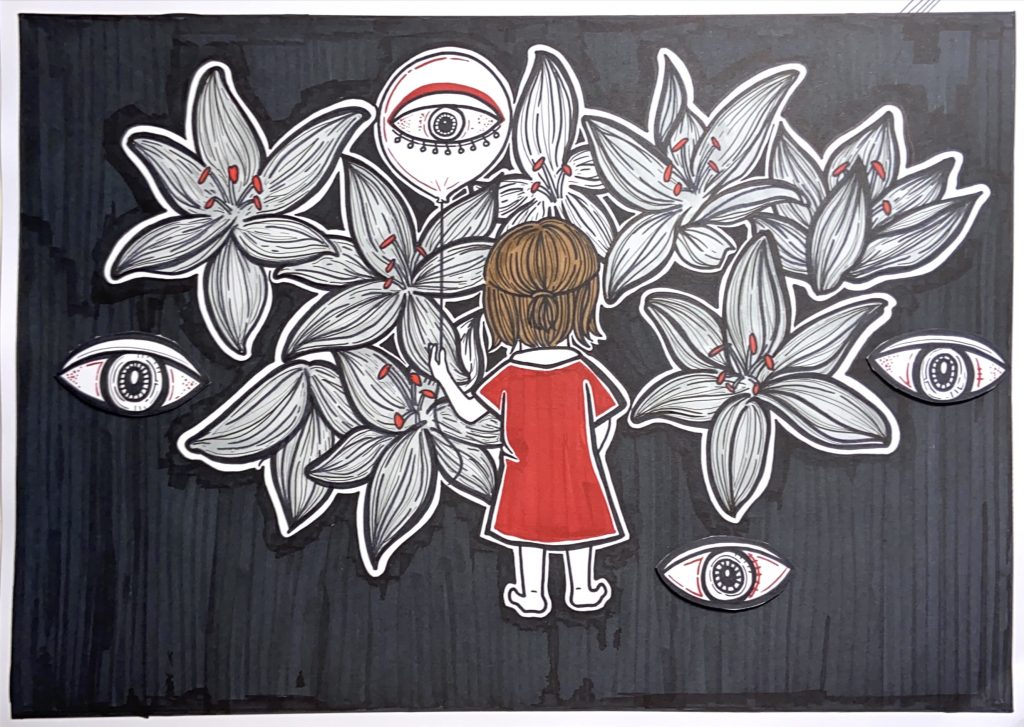 我把哈雅的房间擦的干干净净,在她撒发着垃圾味道的旧布包里找到了一本破破烂烂的笔记本,掺杂在包里发霉的橘子皮和破烂的课本中。
哈雅的课本只有一半的封皮,书面上的笔记已经看不太清,有被人泡烂又小心晒干的痕迹。
我从来不知道哈雅有记日记的习惯。
我似乎知道应该找谁了。
I cleaned Haya's room to be neat and tidy, and found, in her old, sewage-scented backpack, among the molding orange peels and tattered textbooks, a broken, tattered notebook. 
Haya's textbook is missing half its cover. The notes in the book are hardly visible, and there are marks of the paper being soaked in water, and then carefully dried out.
I never knew Haya had a habit of writing diary entries.
I think I know who to find.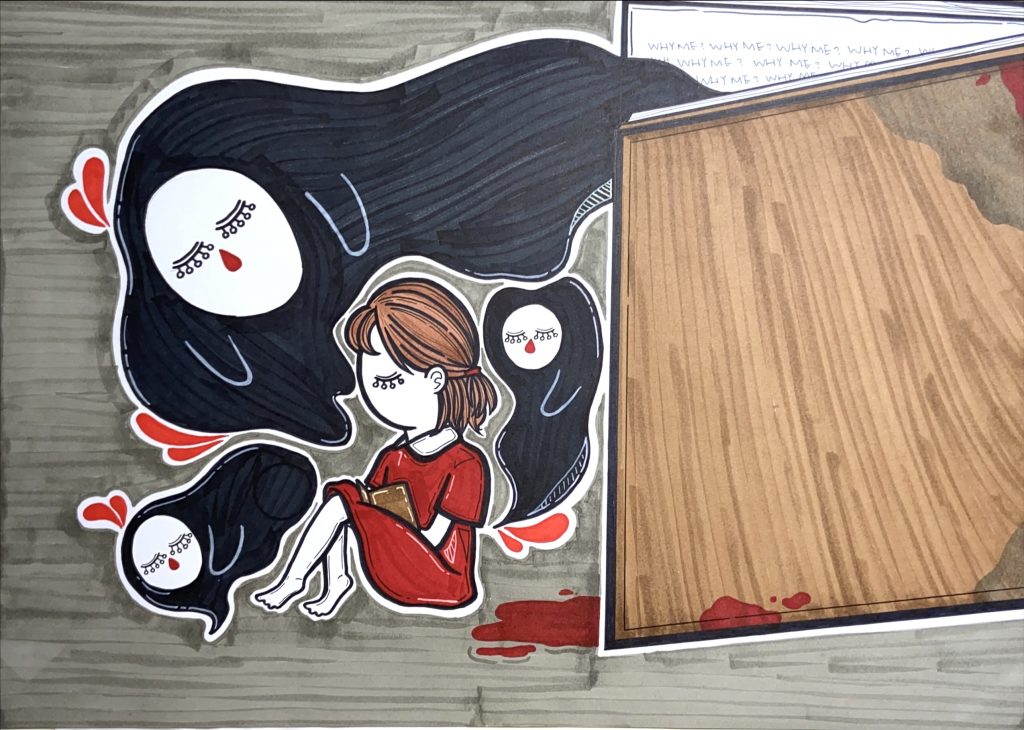 我去了所有学生们下课都惯去的地方,便利店,小道甚至树林。
哈雅的死亡似乎已经被遗忘了。女孩子漂亮的脸蛋撒发着青春的光泽,涂着漂亮的化妆品,簇拥着一群长着青春痘的学生们,围攻着一个瘦弱的女孩。
这些都是熟悉的面孔,是哈雅的同学。
被踹翻在地上的女孩的眼镜已经破碎,书包的东西都被踩在积水的烂泥坑里。
为首的漂亮女孩说,这个没有我们之前的朋友有趣啊,哈雅被踹倒在这个位置的时候,哼都不哼一声呢。
被欺辱的女孩衣冠不整,依然跪在地上,我听她求这个女孩,拉娜,求求你,求求你。
一旁长着青春痘的粗壮男孩用力的踹在女孩的脸颊上,转头又用狂热的眼神看向拉娜。
耳边的声音越来越多,我转身离去了。
I go to all the places where students tend to go after school, convenience stores, alleys, even the woods. 
Haya's death seems to have been forgotten. The beautiful faces of teenage girls, shining with the exuberance of youth, wearing make up, surrounding a group of students with pimples, harassing a frail girl.
These faces look familiar. They're Haya's classmates.
The glasses of girl that was kicked on ground are already shattered into pieces. The things in her bag are soaked from being dumped into the mud puddles. 
The girl in front says, not as amusing as our friend from before, right? When Haya was knocked down, she didn't make a sound. 
The tormented girl's clothes are torn. She is still kneeling on the ground, I hear her plead the girl in front, Lana, please, I'm begging you. 
A stocky boy, with pimples on his face, stomps on the girl's cheek. He turns and looks at Lana with a crazed expression.
The voices around me grow louder and louder. I turn away.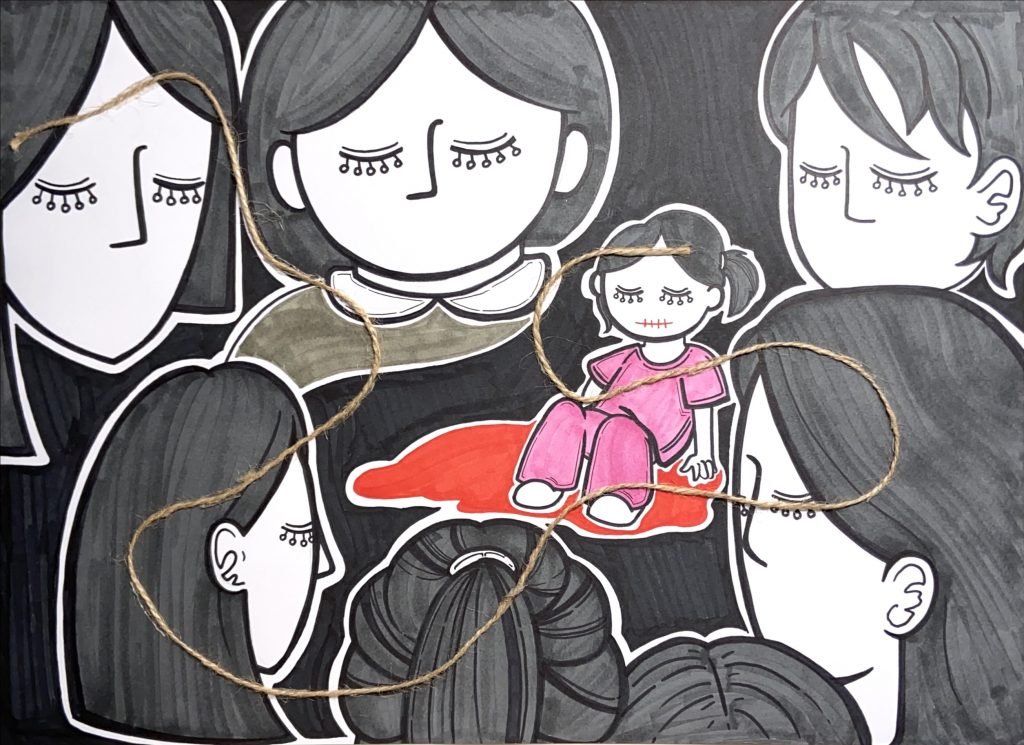 我买了两杯热牛奶,等我再次回到那个泥泞的脏地方,只剩下那个被踢打后的女孩。
我勉强帮她整理好了自己,她的泪痕都已经干透了,脸颊不正常的红肿着。
她的手在发抖,我决定送她回家。
我问她,为什么不告诉老师?老师能不能送她回家?
她说她的班主任叫麻尾老师,是一个中年男人,只对家里有钱的漂亮孩子正眼相看.
"之前的课代表说,只要没背景的女孩单独进入麻尾老师的办公室,就会被摸来摸去,很奇怪很奇怪。"
女孩挥手朝我道别,我端着热牛奶的手却指尖泛凉。
I bought two glasses of hot milk. When I return to the muddy, dirty place, all that was left was the girl who had been kicked.
I help her gather herself toegther. Her tears are already dry and her cheeks are red and swollen.
Her hands are shaking. I decide to take her home.
I ask her, why didn't she tell the teacher? Can the teacher take her home?
She says her teacher, Mr. Ma, is a middle-aged man, who only cares about the pretty students with wealthy families. 
"The class captain before said, if a girl goes into Mr. Ma's office, they get felt up by him, it's really really weird."
The girl waves goodbye to me. I am holding the warm milk in my palms, my fingertips are cold.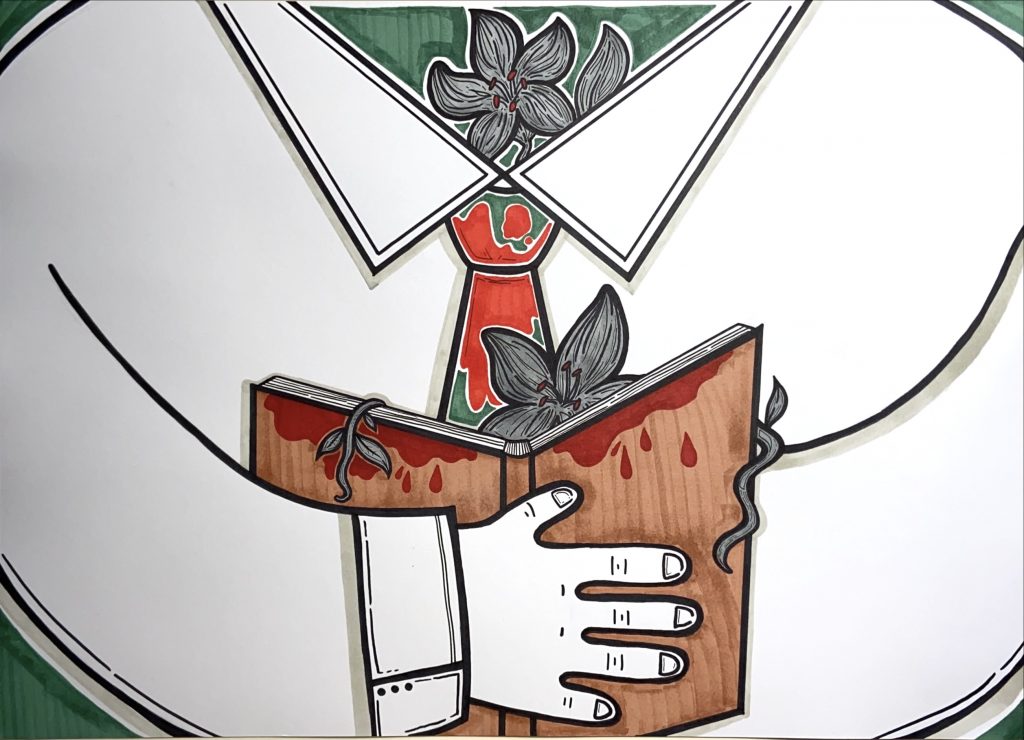 回到家中,依然是一屋子令人作呕的酒气。我只希望他今天晚上不要再醉醺醺的爬上床扇我的耳光,或者呕吐在新洗好的床单上。
在我的印象中,丈夫在家里几乎没了清醒的时刻。
Back home, the house is still filled with the disgusting scent of beer. I just hope, tonight, he doesn't come home drunk and hit me, or vomit on the washed sheets.
As far as I can remember, my husband has never been sober in our home.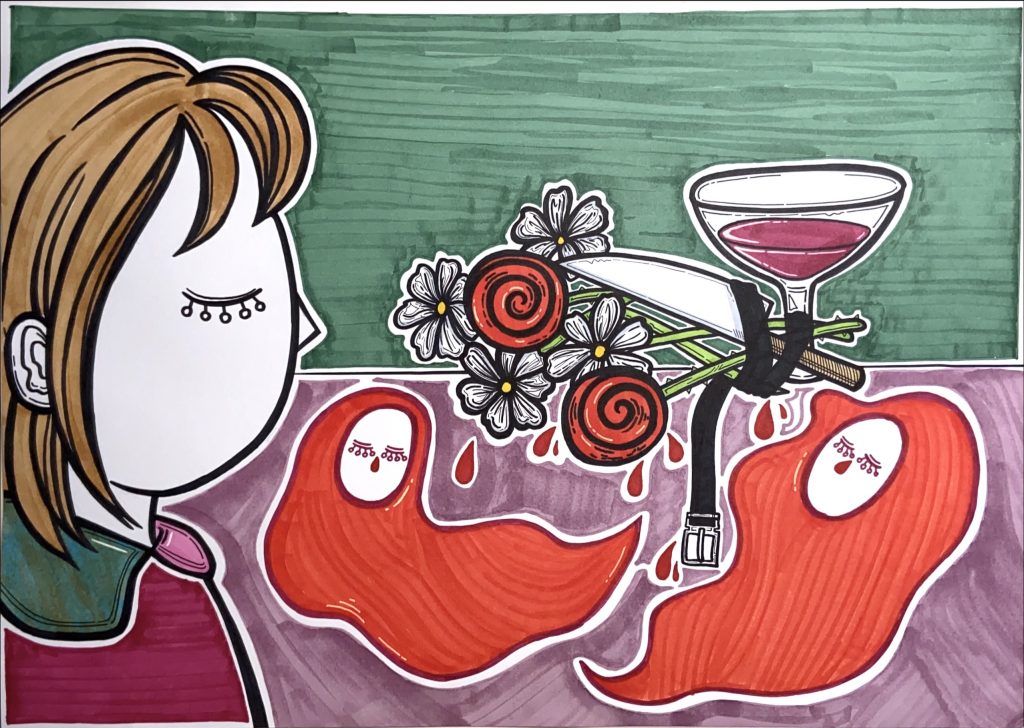 手指上的伤口已经不再流血,我闭上眼睛,又浮现了被血浸泡的黑色百合。
The cut on my finger isn't bleeding anymore. I close my eyes, the image of black blood-stained lily resurfaces on my mind.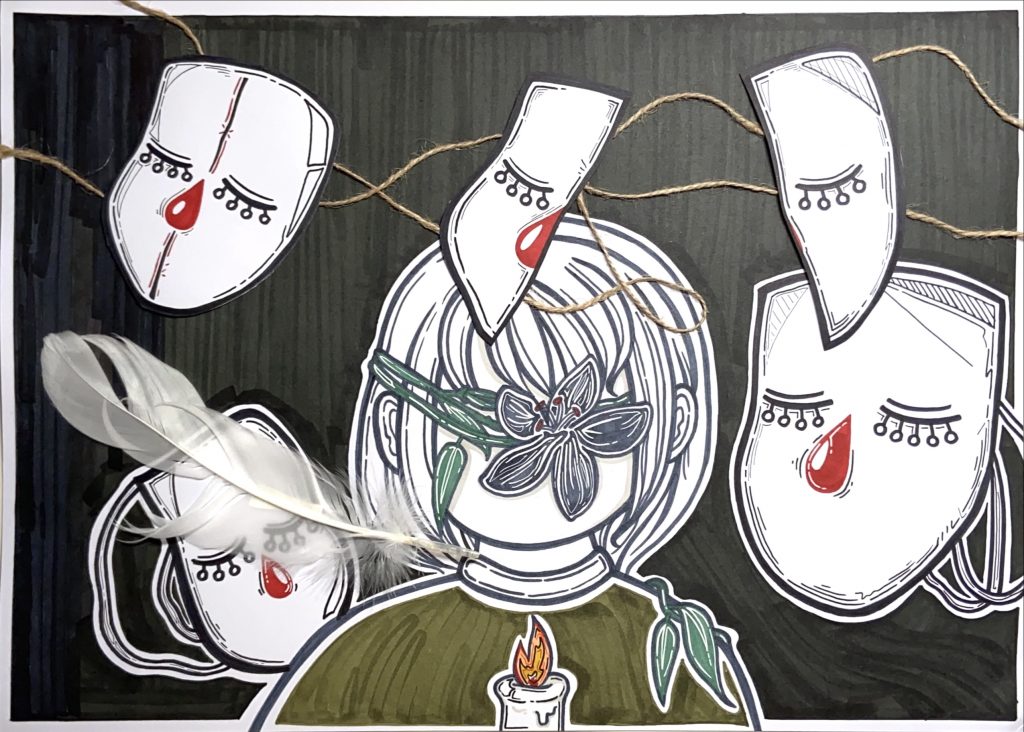 我知道丈夫总要在下班路上路过一家叫做目非的酒馆,在那里喝的烂醉再摇摇晃晃的回家。
酒馆离学校不远,总会有学生混入其中厮混
我再次遇到那个被欺凌的瘦弱女生,是我故意去接她上学,她因此感到感激。我约她吃了一碗牛肉面,在她去取面之时,在她的课本里塞了一张纸条。
接近放学的时候,我去了学校,要求找那位麻尾老师面谈。我做出无助又寂寞的模样去找他"诉苦",哭诉丈夫的无用,没有在他摸我手背的时候发作。
我约他晚上在目非酒馆见面,他很快就同意了。
我又经过上次那个小树林,拉娜和吉沈都在,在清脆的耳光声之后,便是书包被抢来倒在地上的声音。
拉娜刺耳的尖叫声又响起了。
"哈哈,居然有人会喜欢她这种人!还给她写情书,让她晚上和他见面给他回应!!"
女生无措的否认成了最好的确定。
"拉娜,这个什么目非酒吧我们还没去过,要不我们替她去一趟吧,毕竟她被扇成这样,鬼都要被吓死"
提议的是吉沈。
"今天晚上我爸妈又带我那个傻x弟弟出门了,老娘偏要证明给他们看,老娘不需要他们也能活的好好的!去,必须去———"
I know that my husband passes a bar on his way back from work, called [erm], where he always gets drunk and staggers home.
The bar is not far from the school. There'll always be students mixed into the crowd. 
I meet the girl who had been bullied again. I deliberately ask if I can give her a ride to school, and she is grateful. I invite her to eat a bowl of beef noodles, and when she goes to get the noodles, I slip a note in her textbook.
Towards the end of school, I went to the school and asked to talk with Mr. Ma. I put on a helpless, lonely pretense to confide in him, crying about my husband's uselessness.
I ask to meet him at the bar in the evening, and he quickly agreed.
I pass through the woods again. Lana and Jishen are both here. There is a loud slap, followed by the sound of a school bag being grabbed and dumped on the ground.
Lana's shrill squeal rings out again. 
"Haha, I can't believe someone actually likes people like her! They wrote her love letters too, asking her to meet him in afterschool!!"
The girl's panicked denial confirmed this for the both of them. 
"Lana, we haven't been to this bar yet. How 'bout we'll go for her, after all, her face is so swollen, even ghosts are gonna be scared."
It is Jishen that makes the proposal.
"My parents are taking my stupid brother out again tonight, I'm gonna prove to them, I don't need no one taking care of me! I am definitely going-"
————————————————————————————————————
现在是下午18点二十六分
It is 6:26 in the afternoon.
————————————————————————————————————
我比约定时间早到了20分钟,画了浓妆,坐在角落里。
拉娜和吉沈压着被打的不成样子的女生进了酒馆,他们依旧肆意取笑着。
酒馆偏僻且破旧,现在人很少,只有一个酒保一个服务生,我来后5分钟带着经理名牌的人领着包下班了。
距离丈夫下班还有20分钟,他还需要10分钟才能走到这里。
I arrive 20 minutes earlier than agreed. I sit down in the corner and put heavy makeup on. 
Lana and Jishen force the broken, frail girl into the bar. They're still laughing at her.
The bar is shabby and secluded, and now there are very few people, with only one bartender and a waiter. I come, five minutes later.
20 minutes before my husband leaves work. He needs 10 minutes to get here. 
————————————————————————————————————
麻尾老师来了,他很快因为我特地调换的烈酒染上了醉意,手越来越不老实了。
还有5分钟,丈夫应该就到了。
我借口要上洗手间,麻尾老师已经半醉半醒,瘫在桌子上。
我装作一个愤怒的家长,指责瘦弱的女生为什么和"大学生们"一起出现在这里。
拉娜和吉沈被误认为大学生,正在咯咯笑着继续喝酒看热闹
服务生和酒保被我纠缠的没有办法,提出出去解决问题。
丈夫已经从侧门进入了酒馆。
现在是晚上21点二十五分。
Mr. Ma came, I purposefully change the alcohol to one with higher alcohol content, and he soon becomes drunk. He becomes more and more vulgar. 
My husband should arrive in 5 minutes. 
I excuse myself to the bathroom. Mr. Ma is delirious, lying on the table. I pretend to be an angry parent, accusing the fragile, little girl of being here with the "university students".
Lana and Jishen, who are mistaken for college students, are giggling and continue drinking while watching the drama unfold. 
The bartender and waiter are exasperated and proposed to discuss the issue outside.
My husband enters the pub through the side door.
It is 21:25 p.m.
————————————————————————————————————
在硝烟中,女生和酒保、服务生都因为爆炸的冲击力晕倒了。
我仿佛看见梦中的黑百合有了尽头,竟与此刻重合了起来。
开出了一朵朵沾血的荼蘼花。
Amongst the smoke, the girl, bartender and waiter fainted from the impact of the explosion.
I can almost see, the black lily in my dreams, finally coming to an end. Its petals close together. 
A flower of love's despair blossoms, with droplets of blood leaking. 
————————————————————————————————————
"哈雅啊,再也不用害怕了"
Haya, you don't have to be afraid anymore.
————————————————————————————————————
"本市于昨天晚上21点三十分发生一起爆炸案,爆炸案中有两男两女当场死亡,三人因爆炸陷入昏迷但暂无生命危险————"
"Yesterday night, at 9:30pm in Shanghai, there was an explosion, at a bar known as 'Un-Sight'. Two male and two females died from the impact of the explosion, three people were rendered unconscious, but none of the three suffered any fatal injuries- "
The End
给母亲的信:
致妈妈:
妈妈,在作出决定之前,我总想要给您写一封信,至少留下几句话。
我一直不敢说,是因为我眼中的您总是疲惫的,甚至是沮丧的。我已经足够糟糕,让您对我失望,想必也是必然。我真的不是故意的,但是我总是睡不好,总是梦到那些可怕的人、黏糊糊的恶臭的手往我身上摸。我那天真的不是故意对着您做好的鸡蛋汤干呕,针对我的人总是把食堂的鸡蛋汤泼在我的头发和衣服上,闻到它的味道我连筷子几乎都拿不稳了。
对不起,妈妈。对不起,我真的不想这样。我想要更加勇敢一点,想要努力学习考上很好的大学,带着您离开这里。离开学校、老师、同学和爸爸。对不起妈妈,但是我真的好累,白天黑夜对我来说似乎都是噩梦。
妈妈,我有最后一个奢侈的请求,请不要忘记我。如果可以的话,离开爸爸吧,他最近清醒的时间越来越少了。
对不起,妈妈,对不起
囡囡
Dear mom,
Before I make my decision, mom, I wanted to write one last letter to you, to say a few words before I leave.
I was always too scared to tell you. To me, you always seemed so tired, even depressed. I already felt horrible enough, and for you to be inevitably disappointed in me… I never wanted this to happen, but I always slept badly, and everytime I would dream of those… horrible people, their sticky, disgusting hands touching me. That day, I really didn't mean to vomit in the egg soup you made for me. But the people being mean to me always dumped the egg soup from the canteen on my hair and my clothes, and the scent of it made my hands tremble so much I couldn't hold onto the chopsticks. 
Sorry, mom. Sorry, I really didn't mean for this to happen. I wanted to be braver, to be more determined, to study harder and go to a nice college, and bring you with me. To get away from this school, the teachers, schoolmates, and dad. I'm sorry, mom, but I'm just so tired, I couldn't catch a break, day and night both seemed like nightmares to me. 
I just have one last wish, mom. Please don't forget me. And if you can, please leave dad, he seems to spend even less time being sober now.
I'm sorry, mom, I'm sorry.
I love you,
Your daughter