Origin of the project 项目起源
The origin of this project is that one day I was thinking about a book that left a deep impression on me — Orphan Train, in which two heroines are in a confused and struggling, happy or sad situation, always on the road to find themselves. The concept "searching" seems to run through my mind and daily life from the beginning, and I began to wonder what other people thought about this concept. So I interviewed several of my friends on this topic.
这个项目的起源是我有一天想起一本给我留下深刻印象的书—《孤儿列车》,其中的两位女主人公都处于迷茫和挣扎、幸福或悲伤的处境中,永远踏在寻s自我的路上。寻找这一概念似乎贯穿在我的思想和生活中,我开始好奇其他人对这一概念的想法。便拉着熟识的朋友做了个采访
In the interview, I simply asked four questions:
What does "searching" mean to you?
What kind of process do you think "searching" is?
Is there something you've been "searching" for?
What are the possible endpoints of your journey of searching?
在采访中我简单问了四个问题,分别是
– "寻找"对你而言是什么?
– 你觉得"寻找"是一种什么样的过程
– 你有一直在"寻找"的东西吗?
– 你希望"寻找"的可能终点是什么?
After sorting out the notes for the interview, I found that although everyone was the same age, they had very different understandings of the same concept in their eyes. For example, some people thought that they should search with a purpose while others thought that they were too purposeful and would ignore the scenery around them. So I came out with the idea that to do a project around the theme of "searching" from my point of view.
在采访完之后整理笔记才发现,大家虽然年龄相仿,但是每个人眼中对于同一概念的理解还是非常不同的,比如说有人觉得寻找需要带着目的去,有人则觉得目的性太强会忽略身边的风景。所以我便想说,做一个关于围绕我眼中的"寻找"这一主题的项目
Project Plan 项目计划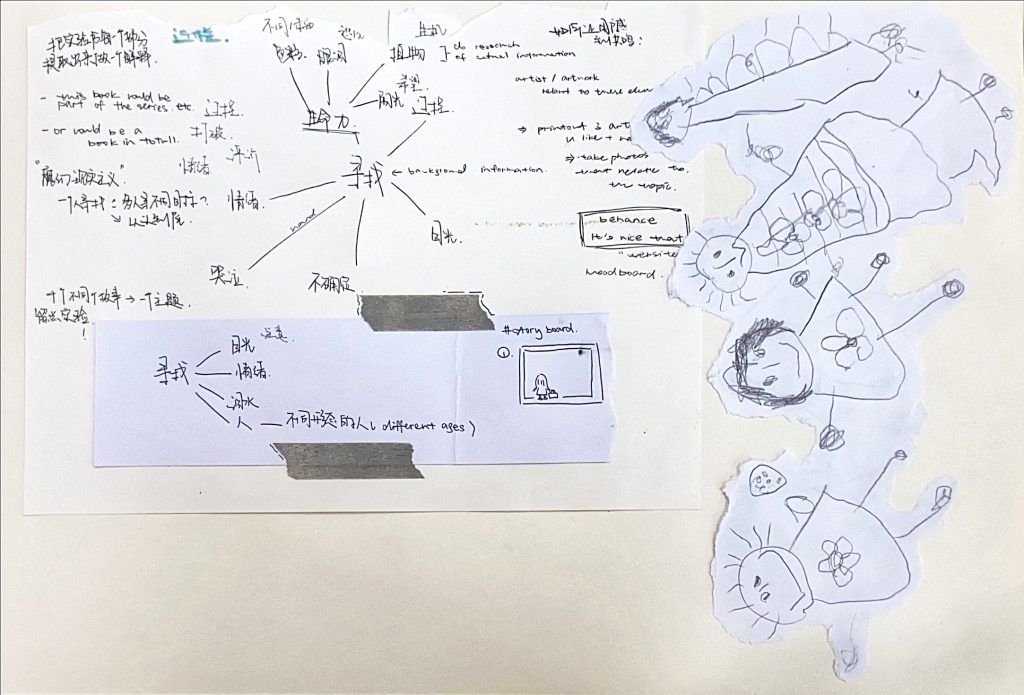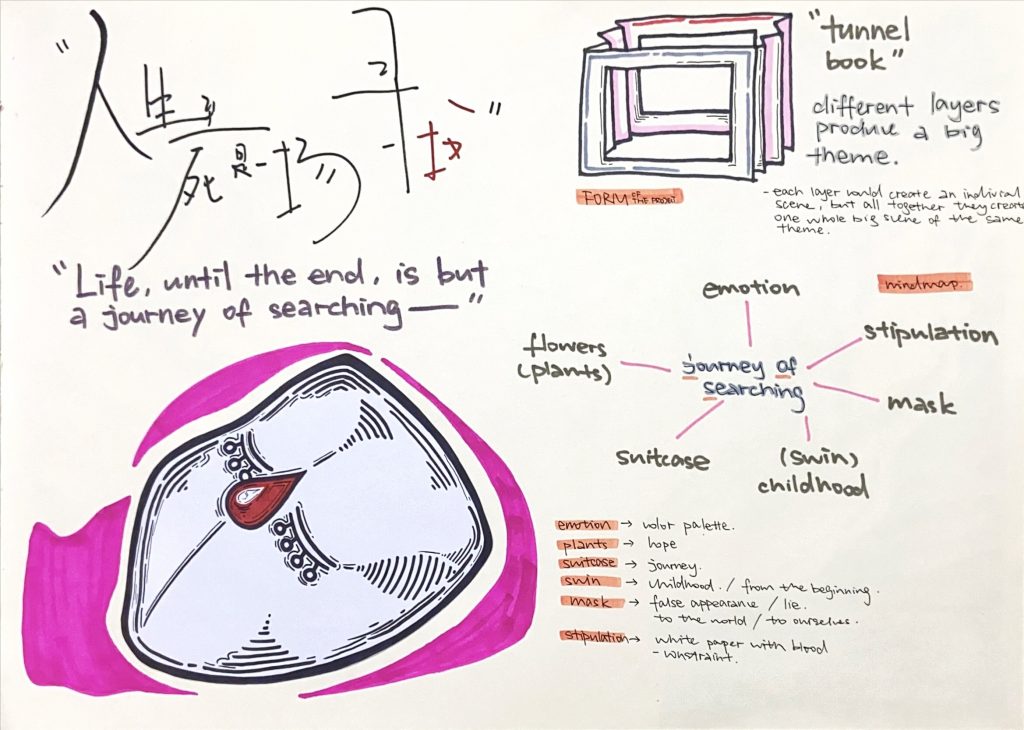 At the beginning of the project, I didn't have many ideas, so I made some subtitles based on the major themes, and discussed with my teacher how to develop the themes. What do I mean by "searching"? To achieve this, I have done many times of discussions and thinking and using mind maps to comb and expand my ideas in between. Finally, the whole project is divided into four parts, which represent the four parts in the journey of searching in one's life.
在项目刚刚开始的时候我没有什么想法,就做了一些从大主题出发的小标题,并和我的老师一起去讨论如何将主题衍生。我眼中的"寻找"到底是什么?为此我做了很多次的讨论、思考,并且用思维导图的形式梳理和展开我的想法。我最终确定将项目分别分成四个部分,分别代表着人寻找的路途中的四个部分.
And I finally decided to present this project in the form of a "tunnel book", because a tunnel book can better interpret a rich scene in an overlapping way. The four parts of the project will be represented by four different tunnel books
并且我最终决定用"隧道书"的形式来展现这个项目,因为隧道书能够用重叠的方法来更好的诠释一个丰富的场景。而项目的四个部分将由四个不同的隧道书展现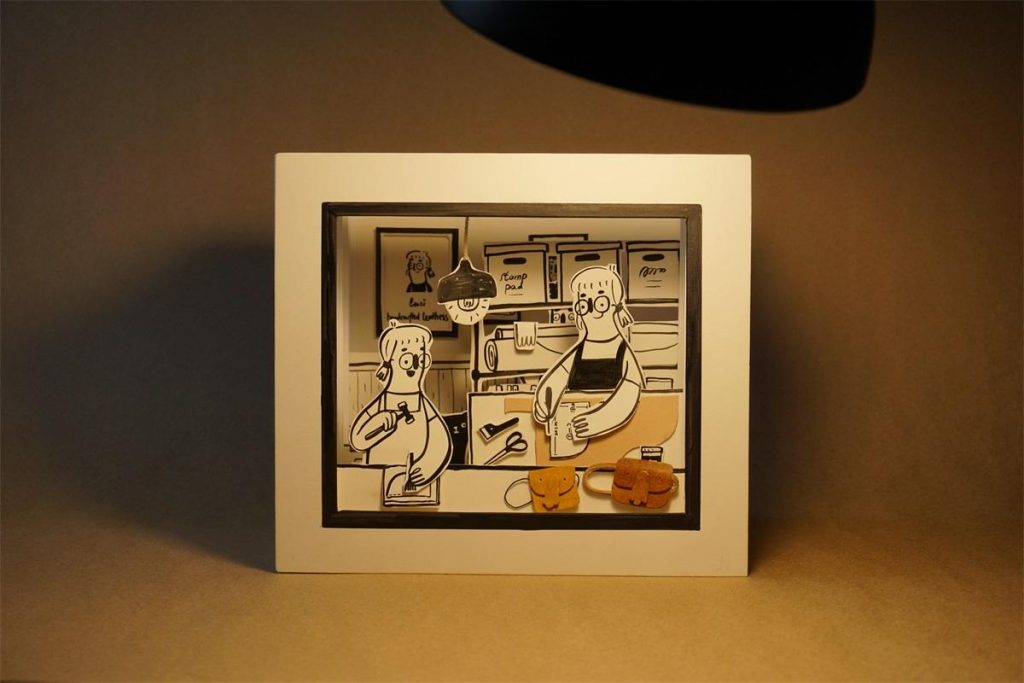 These four parts are as follows:
– Process
– Unknown
– Sight
– Desire
这四个部分分别是:
– 过程
– 未知
– 目光
– 欲望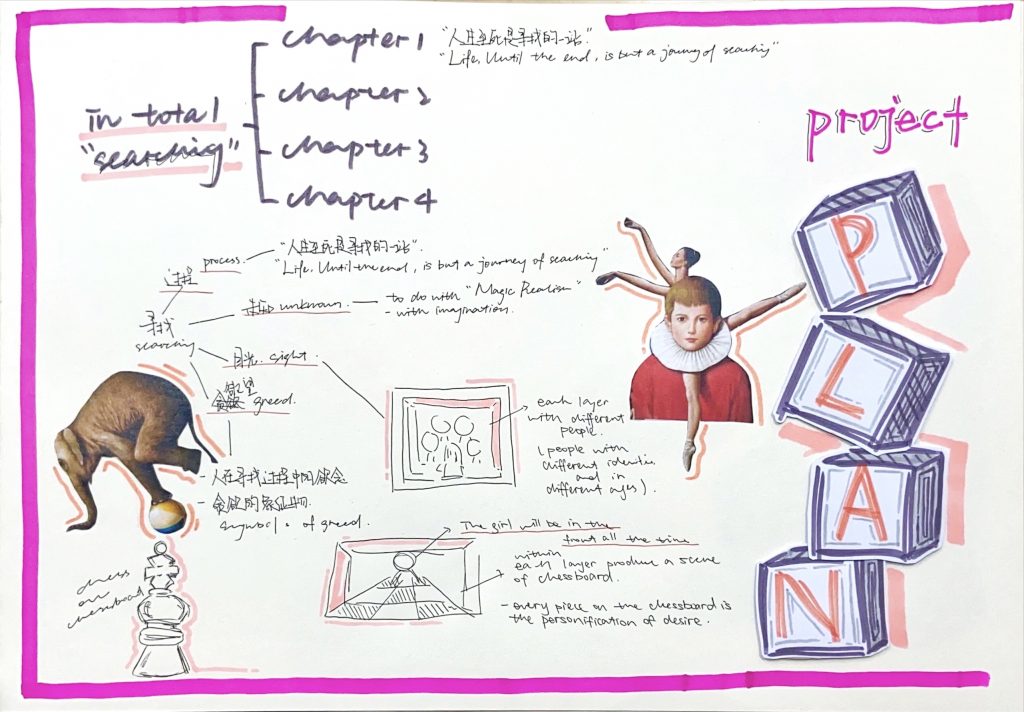 I define this searching as the journey of questing myself, and these four parts are the four main elements that I think I go through in my searching.
我将这段寻找定义是寻找自我的旅程,而这四个部分则是我认为在自我寻找中会经历的四个主要元素。
→ Process
"Searching" itself is either a long or short process. I think the questing of oneself is a proposition for one's whole life because the definition of oneself can change at any time
→ 过程
"寻找"本身是一个漫长或短暂的过程,我认为对自我的寻找是人一生的命题,因为对自己的定义是随时会改变的
→ Unknown
The path ahead of this journey is unknown, the goal and the end may be unknown, the difficulties we may encounter and the friends we may make are unknown as well. What we only know is the thing that happens now.
→ 未知
这段旅途的前方是未知的,目标和结局可能是未知的,可能会遇到的困难和结识的朋友是未知的,已知的只有现在。
→ Sight
On the way to find oneself, you will face many different sights and attention. From parents, friends, teachers, cooperators, lovers, strangers, and etc.
→ 目光
在寻找自我的路上,会面临很多很多不同的目光。来自父母、朋友、老师、合作者、爱人和陌生人等等。
→ Desire
People at all times have different desires, and different desires may lead to different outcomes
→ 欲望
人无时无刻都有着不同的欲望,而不同的欲望可能会导致的结局也不同

In this project, I prefer to show the process of such a journey without making too much comment on its existence itself. Because I also do not know about my own journey and where it will lend to, as I don't have such a direction and outcome for now. So I wanted to just record what I thought about it at the moment
在这个项目中,我更倾向于去展示这样一个寻找的过程,而不对它的存在本身做出太多的评价。因为我也不知道属于我的自我寻找会有这么样一个走向和结局。所以我想要记录当下我对它的想法