in this project, i will continue finding myself, but this time would be more specific. It's about my emotion.
I have got two ideas about my emotion. First, i would like to use color and different materials to express my emotion. At the same time, I would do a lot of research about color and emotion. Second, i would use video to express my emotion, a little bit stream of consciousness, but with my consciousness, and also i would unscramble the video i record
2019-12-5–Emotion and color research
Today, i did some research about explanation of color in a psychology way. In the mean time, I viewed some art pice about color and emotion.
How do famous artists express their feeling with color? I found these.
I find that there can be several feelings evoked simply by changing the shade of a single color. For example, black can illustrate stark evil or power, but gray (a mix of black and white) is observed as dull and indefinite — hence the term "gray area."
2019-12-6–My emotion of color
this is a Pie chart i made, it shows how much these emotions appeared in my daily life.( ignor with the color on it. It's not thing to do with it..)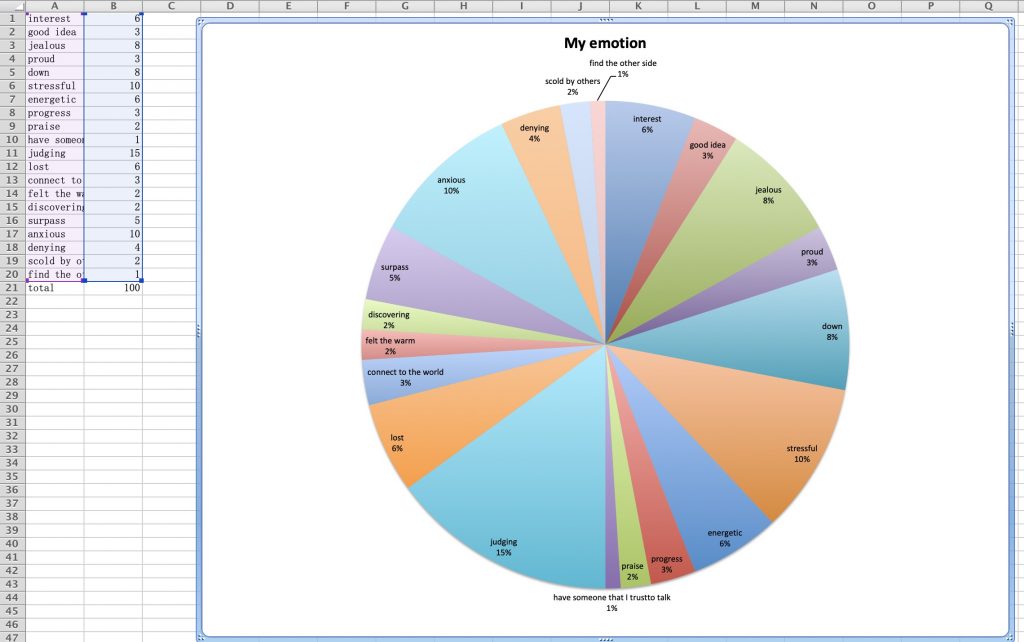 2019-12-10
Start to Gathering Materials about my emotion video
I'm not that sure why i want to record this, but i guess is because of the sound of water. It could make me calm down. I believe i got a bad feeling at that time. "Tick tock, tick tock"
2019-12-11
Here are some photo i took. I observed other people's emotion and also use cold and dark colors to express my feeling–lost.
2019-12-15 My making process
This day I start to use color and different materials to express my different emotions through the Pie chart i made on 12.6.
https://www.bilibili.com/video/av82338945/
2020-1-2 my making process
This is a video i record when i am express my emotion, when i am doing this action, i felt everything is released, my emotion, my stress and so on. Also, the sound made me really comfortable.
final video
This is the final video I made. In this video, every scene is recorded during my daily life. Then I combined them together and form a complete one.
https://www.bilibili.com/video/av82847698/
final emotion Pie chart
Through this project, I realized that emotions can not represented by colors or any materials. For example, I can not tell you what is the color and material's express of emotion. Emotion is a thing that extraordinary complex.