introduction:
This is a report on solutions to social challenges in the lunar exploration community, based on online group collaboration, after learning about social traits in adolescence in a self-knowledge class. The four parts of the report are: research social challenges in the community – focus on a social challenge – propose your solution based on that challenge – propose an action plan.
Our group mainly focused on the issue of "insecurity", and put forward two viewpoints, "How to develop heart-to-heart friendship" and "to achieve spiritual self-sufficiency". It's also about expressing how we heal in relationships, how we identify the parts of relationships that wear and tear, using the body, choosing the right way to heal, to reduce the discharge; Recharge your batteries at the same time: increase your ability to create nourishing sexual relationships and weave a happy web of connections for yourself. We ended up with tips on building relationships and a game called "20 Things to Do when You're Insecure."
这是在自我认知课堂上,学习了关于青春期社交特质后,以线上小组合作为单位产出的一份关于在探月社群内存在的社交挑战的解决方案报告。报告包含四个部分,分别是:调研社区中存在的社交挑战-聚焦到一个社交挑战-基于这个挑战提出一个你的解决方案-提出执行方案。
而我们组主要聚焦在关于"缺乏安全感"的问题上,提出了"青少年如何发展交心友谊"及"实现精神上的自给自足"这两个观点。其实也是在表达,我们如何在关系中获得疗愈,如何辨别关系中带来损耗的部分,运用身体,选择正确的方式疗愈,减少放电;同时为自己充电:增加自己创造滋养性关系的能力,为自己编织幸福的链接网。最终我们产出了关于建立良好关系的小tips以及一款小游戏,"没有安全感时可以做的20件事"。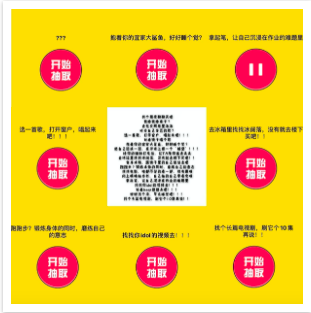 In the whole process of completing the project, I was actually involved as a team leader, so the most important question I needed to think about was "How to lead a group of people forward to achieve this project under the limited condition of online cooperation". In fact, I've always thought it's a very simple thing, because we have clear goals, and everyone is responsible and contributes to the final outcome.
However, I found it problematic to make meticulous planning and design the team structure, and to treat people as objects or static resources in a neat and orderly way, and to see each one in its proper place. The problem is that when we have conflict or disagreement, we often use aggressive and oppressive language to feel in control.
It comes down to the question of the team, what kind of way to work together and produce a good interaction. My biggest growth in cooperation has been in the use of nonviolent communication for conflict resolution.
在整个完成project的过程中,我其实是作为一个团队leader的身份投入,所以我需要思考的最重要的问题是"如何在线上合作这个限制条件下,还能带领一帮人往前,搞成这个project。"其实我也一直认为这是一个很简单的事情,因为我们有清晰明确的目标,每个人都各司其职,为最终产出所负责,所贡献。
但是我发现一丝不苟的做着规划,设计着团队架构,把人看作物件或静态的资源一个个规整放好,看上去整整齐齐,各司其职是有问题的。而这个问题就是当我们发生冲突和意见不合时,通常会用带有攻击性和压迫性的言语达到掌控感。
这就涉及到关于团队的问题,什么样的方式让大家更好协同,产生一个很好的相互反应。而我在合作中的最大的成长就是关于使用「非暴力沟通」的方式来「解决冲突」。
reflection:
Because of this project, my ability to "resolve conflicts" has been improving rapidly. In the past, I always inadvertently used some violent language to communicate. It may be common for me to evaluate others morally and pass the buck. And will compare. What these words have in common is that they make people feel wronged and uncomfortable because their needs are compromised or ignored. It will also worsen the cooperation relationship, because it prevents people from really paying attention to and understanding each other. In fact, we all want to make the project more perfect, so we cannot work together to achieve a win-win situation.
I have found that when there is conflict in cooperation, not only me, but all of us use violent language to communicate, which immediately triggers our anger and defense, because our need for self-esteem is threatened. In such situations, it is very easy to use the same hurtful language as we need to maintain our self-esteem. As a result, the conflict escalates and eventually exceeds the tolerance level of each other, bringing great harm to the achievements of the relationship and cooperation.
And I found that if I wanted to change this vicious circle, I needed to go back to the first moment of verbal violence. After discovering this, I immediately recounted what had happened before and put forward my ideas. So in the rest of the communication we all respond in different ways, using non-violent communication to cooperate. All team members can show their real needs reasonably and clearly, find the common parts, and then satisfy each other through cooperation and mutual help, which finally satisfies both sides and improves the relationship and results.
因为这个project,使我「解决冲突」能力在飞速上涨。在以前我总是会不经意间用到一些暴力语言来进行沟通,可能常见的会有道德评价他人和推卸责任;以及会去比较。这些言语的共同点是,会让人感到委屈和不适,因为自己的需要被妥协或者忽视;也会让合作关系恶化,因为阻碍了大家真的关注和了解彼此的需要,其实大家都是为了可以让这个project更完美,从而也无法一同协作去达到彼此都满足的双赢状态。
我发现在合作中产生矛盾时,不仅仅是我,大家其实都是使用了暴力性的语言在进行沟通,这样会立刻触发我们的愤怒和防御,因为对自尊的需要受到了威胁。这样的情况下,由于我们急需维护自尊,所以非常容易使用同样伤害的语言以暴制暴。结果就是矛盾不断升级,最终超越彼此的容忍程度,给关系合作成果带来巨大的伤害。
而我发现想要改变这样的恶性循环,就需要回到语言暴力最初产生的那一刻,发现这一点后,我马上和大家复盘了之前发生的事情,并且提出了我的想法。所以在接下里的沟通中我们都采取不一样的回应方式,使用非暴力沟通方式来合作。团队所有人都可以合理而清晰地展现自己的真实需要,寻找到共通的部分,然后通过合作互助满足彼此,最终让双方都满意,让关系和结果都能改善。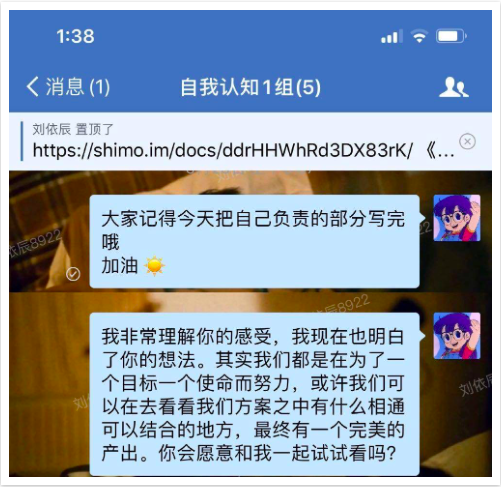 The bottom line is this: nonviolent communication resolves conflict by reconstructing the violent elements of language into a "strong desire to meet needs," and creates constructive connections between people that ultimately lead to better outcomes and a better experience of teamwork. Finally, smooth progress was achieved according to the project timeline, and finally a good output was achieved.
总结下来就是:非暴力沟通,通过将语言中的暴力元素重构为"强烈的满足需要的渴求"来化解冲突,实现人与人之间有建设性的链接,最终创造好的结果,有更好的团队合作体验。最终实现了按照项目时间线顺利的推进,并且最终有一个良好的产出。
artifact of the link:https://shimo.im/docs/ddrHHWhRd3DX83rK/