"万尼亚舅舅"是我接触戏剧表演之后最喜欢的一部作品,由契科夫完成。
"Uncle Vanya" is my favorite work after being exposed to theatrical performance, which was completed by Chekov.
该戏剧主人公万尼亚舅舅当了一辈子供奉姐夫的"好人",暮年才意识到自己其实是当了一辈子的"傻瓜"。于是,他选择了自杀。这只是最简化的对于剧情的概述,对于戏剧而言,追求段时间内的快速理解显然是不现实的。
The protagonist of the drama, Uncle Wanya, has been a "good man" who has dedicated his life to his brother-in-law, but only in his twilight years did he realize that he was actually a "fool" for a lifetime. So he chose to commit suicide. This is just the most simplified overview of the plot. For drama, it is obviously unrealistic to pursue a rapid understanding of a period of time.
从时间来看,这部戏剧的剧本创作时间距离我们已经非常久远了,但我仍然觉得,这就是当先正在发生的事情的真实写照。
In terms of time, the writing time of the script of this drama is very far away from us, but I still feel that this is a true portrayal of what is happening right now.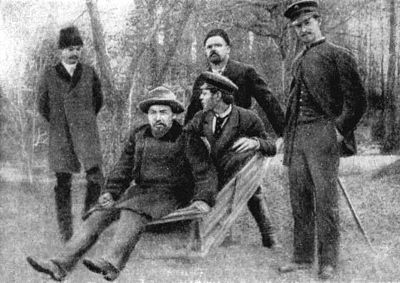 我已经老啦,给工作压坏啦,我已经变得庸俗,我的感情已经完全麻木啦,看起来,我再也不能爱任何人啦。我不爱任何人……将来也决不会。还能让我感动的,就是美。只有美还能不容我不动心。 ……可是,那并不是爱,不是依恋……

万尼亚舅舅
你知道才能是什么意思?那就是勇敢、开阔的思想、远大的眼光……他种下一棵树,就已经看见了千百年后的结果,已经憧憬到人类的幸福。这种人是少有的,要爱就要爱这种人……

万尼亚舅舅
这种文字是值得珍惜的。这种珍惜是由于他文字的精准和勇敢。
This kind of writing is worth cherishing. This cherishment is due to the precision and bravery of his writing.
 那种契诃夫的味道,那种惘惘的,灰色的生活。因为死亡,死亡在高烧着。因为病,因为有病的切肤之痛。时间,那种一切一切匆匆的时间把人永远推向明天,可当有一天生命将要完结的时候呢,生命却是那么虚妄的东西。万尼亚舅舅的一切都是为了他心目中的信仰–教授,最后却发现,这不过是一种假象。
The taste of Chekhov, the kind of wretched, gray life. Because of death, death is a fever. Because of the disease, because of the pain of the skin. Time, all the rush of time pushes people to tomorrow forever, but when one day life is about to end, life is such a vain thing. Everything about Uncle Vanya was for the faith in his mind-the professor, but in the end he discovered that this was just an illusion.
 找不到什么活着的状态,不能清晰的体会有些东西,我像是盲了,聋了,当我忽略掉在乎的东西,无耻的快乐活着平静的活着,我就像是死了一样。
I can't find a state of being alive, and I can't clearly understand some things. I seem to be blind or deaf. When I ignore the things I care about, live with shameless happiness and live peacefully, I feel like dead.
我对契科夫了解过程完全不能被称作是调研,而更像是在古老的城池的集市见到了一位老朋友。我对他带着敬畏与好奇,并伴随着放弃自己的决心。
The process of my understanding of Chekhov cannot be called research at all, but more like meeting an old friend in the market of an ancient city. I am in awe and curiosity towards him, accompanied by the determination to give up myself.
与此同时,我不得不承认我无法量化关于契科夫的Research的结果。但,他们都在我的独白中。
At the same time, I have to admit that I cannot quantify the results of Chekov's Research. But, they are all in my monologue.
史黛西
于二○二一年一月十二日