English Version: https://my.moonshotacademy.cn/serene-zhang/portfolio/menstrual-products-mutual-assistance-box-2/
2020年可以算是转折之年,不仅仅是人类历史上浓墨重彩的一笔,在我生活中也留下了深深的记号。
The year 2020 can be regarded as a turning point. It is not only a profound milestone in the history of mankind, but also leaves a deep mark in my life.
从2020年开始,我开始关注公益,关注少数群体的权益。其中也包括女性这个群体。在夏天的时候参加了女性赋权的夏令营,而在开学以后也和同学一起开启了这个"卫生巾互助盒"的项目。
Starting from 2020, I began to pay attention to public welfare and minority rights and interests. And that includes women. In the summer, I participated in the summer camp of female empowerment, and I started the project of "Menstrual products mutual assistance box" with my classmates after the school started.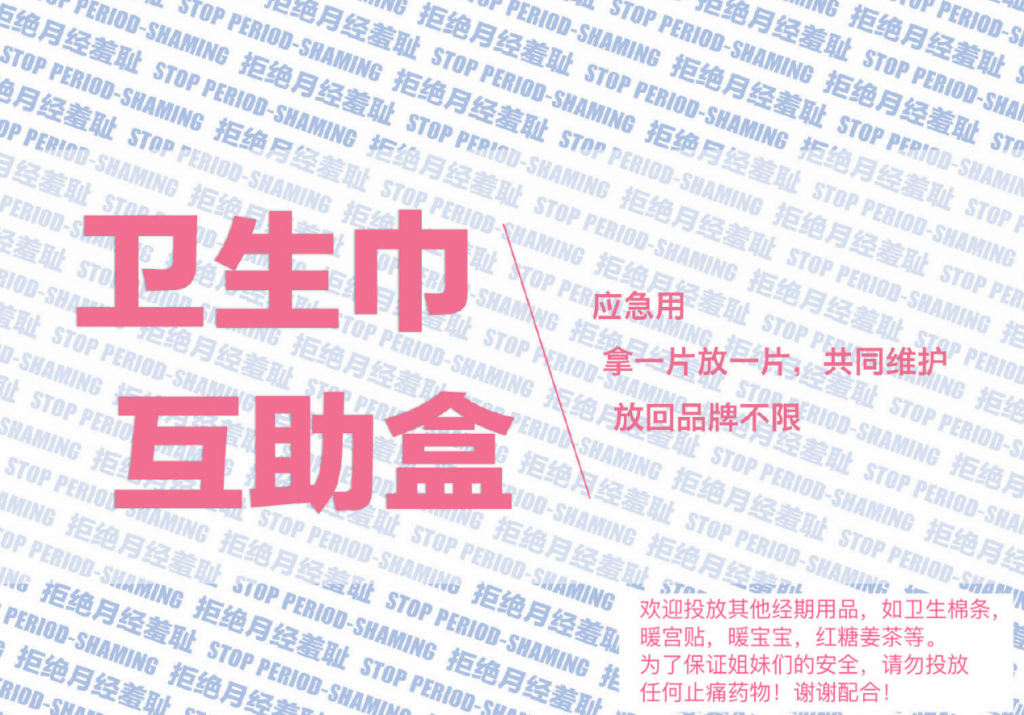 作为女孩子,当月经突然来的时候,又没有带卫生巾,总是很麻烦,害怕经血流到裤子上难清理。也害怕其他同学异样的眼光。所以我们更要开启这个项目。
As a girl, when menstrual menstruation suddenly came, and did not bring sanitary napkin, always very troublesome, afraid of blood flow to the pants difficult to clean. Also afraid of other students strange eyes. So we need to start this project.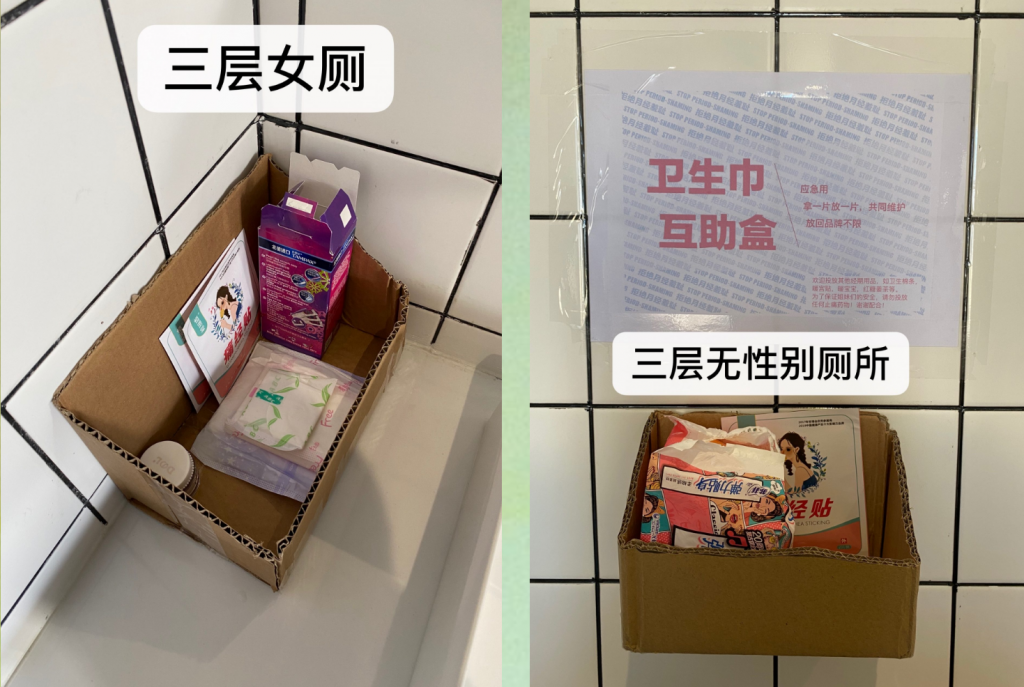 项目本身格外简单,在学校的每一个女厕所都放上了一个盒子,里面放上了一些卫生巾,并且贴上说明书告诉大家:拿一片放一片,共同维护。
The project itself was extremely simple. A box was placed in each female toilet of the school, in which some sanitary napkins were placed. The instructions were posted telling everyone to take one piece and put one piece together for joint maintenance.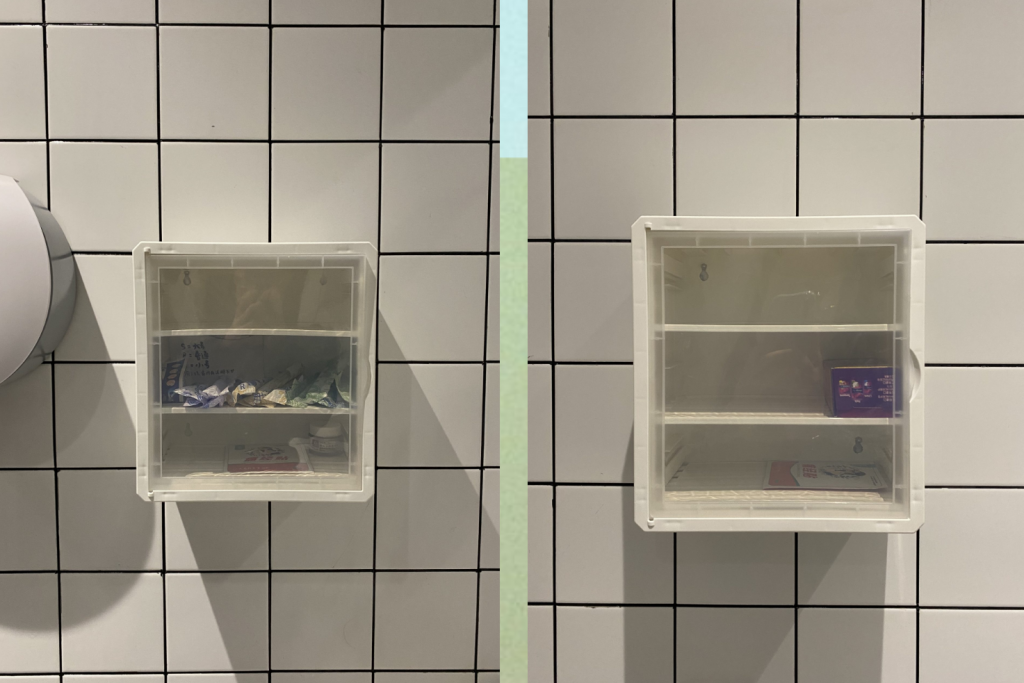 这个项目对于我而言还挺重要的,因为在做这个项目的时候我不再感觉我是在代表我自己在做,而是作为女性群体的一员,我在为这个群体谋福。
This project is also very important to me, because when I do it I don't feel like I'm representing myself anymore, but as part of a community of women, I feel like I'm doing it for the benefit of the community.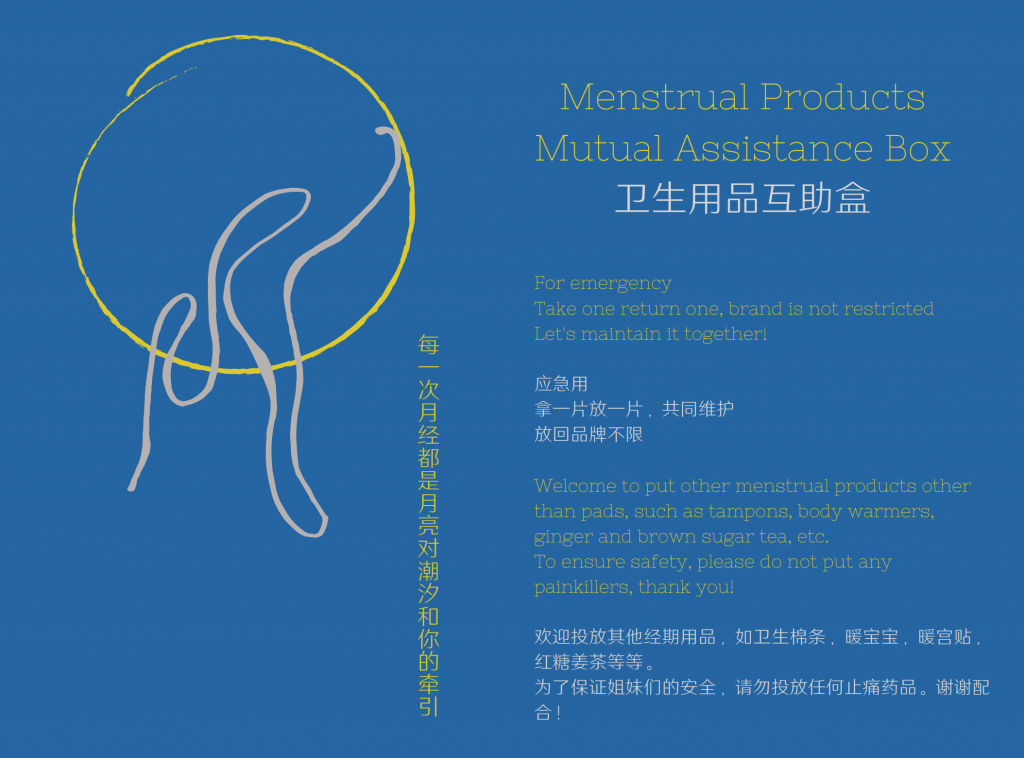 这个项目是和探月学习者Sab一起做的,在她的网站上记录了整个项目的过程:(可以点击下方链接查看)
The project was conducted in collaboration with lunar learner SAB, who documented the process on her website (click the link below).