English Version: https://my.moonshotacademy.cn/serene-zhang/portfolio/moon-gap-day/
当MOON做完两期演讲活动以后,我们在转型,我们想要成为专注于高中生的高中生组织。而这个时候正好有一个机会可以和中国最有影响力的辩论公司合作做一次给青少年的辩论活动。
After we finished two public speaking activities, we were changing, we wanted to become the high school student organization, which focusing on teenagers. Meanwhile, we had an opportunity to corporate with the most influential debate Chinese company to made one debate activity for teenagers.
所以Gap Day就是一场给青少年的辩论活动,给青少年的一天间隔。
So Gap Day was one debate activity for teenagers, one day that they could gap and enjoy the life.
1.活动准备 Preparation
向合作方展示 Presentation
和外面的公司合作是非常有挑战的,并不是每个高中生组织都是有机会和有名的大公司合作做项目的。所以作为项目leader,我需要给公司的对接人做一次presentation去展示MOON这个项目可以接下来这个活动。
It was really challenge to corporate with famous company, not every high school student organization have that chance. So been the leader of MOON, I had to do one presentation to the owner of that debate company showing that MOON could handle this tough work.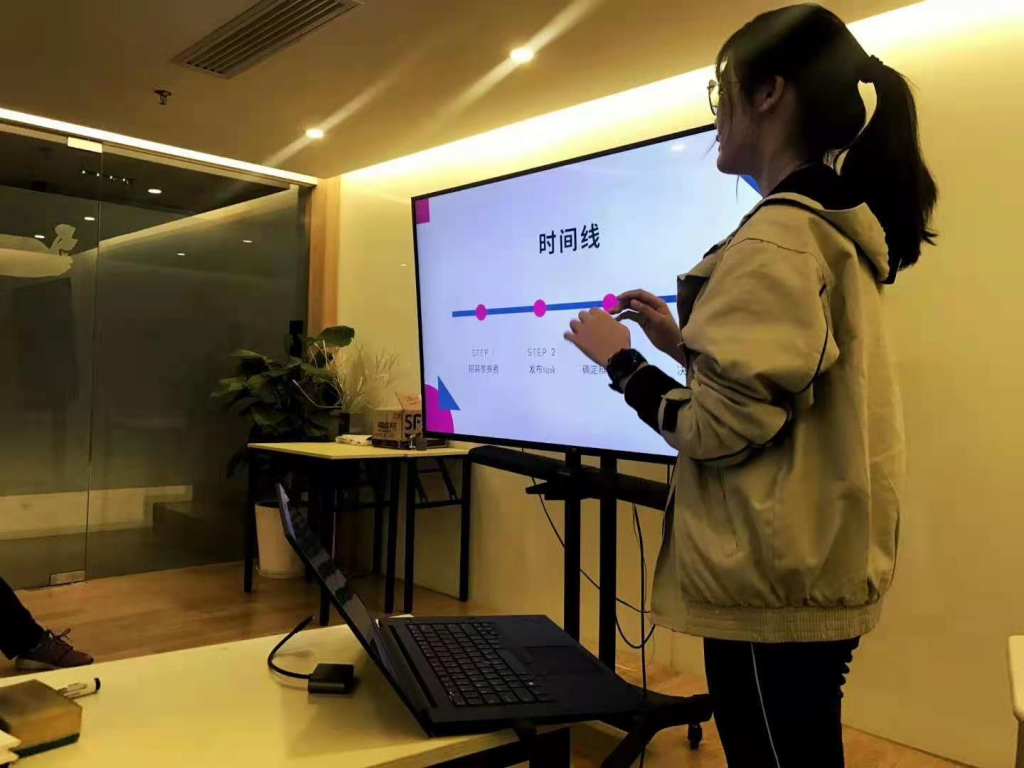 当时时间很紧,只有5天的时间让我准备一个可以和真实的大公司演讲的presentation,这段经历也挺磨炼我的。最后还是顺利地达成了合作。下面是我的演讲文稿,可以点击链接查看。
The time for me to prepare one presentation is limited, I only got five days, it tortures me a lot. But the result was good, we made the corporation successfully. And there is my presentation script below, you could click it.
演讲文稿 Presentation Script(Chinese)
招募志愿者团队 Recruit for Volunteer Team
这是一场比较大的活动,需要设计的方面也很多。而合作方本身也希望影响到更多高中生,所以我们开始发布文章,在北京高中生中招募志愿团队。最后,我们成功地招募到了20个来自不同学校的志愿者团队。
Because this was a big and serious activity, so there were a lot of parts to be designed. And the corporation company wanted to influence more high school student by doing this activity. We published posters to recruit more volunteers to participate in. At last, we successfully had 20 volunteers from 5 different schools.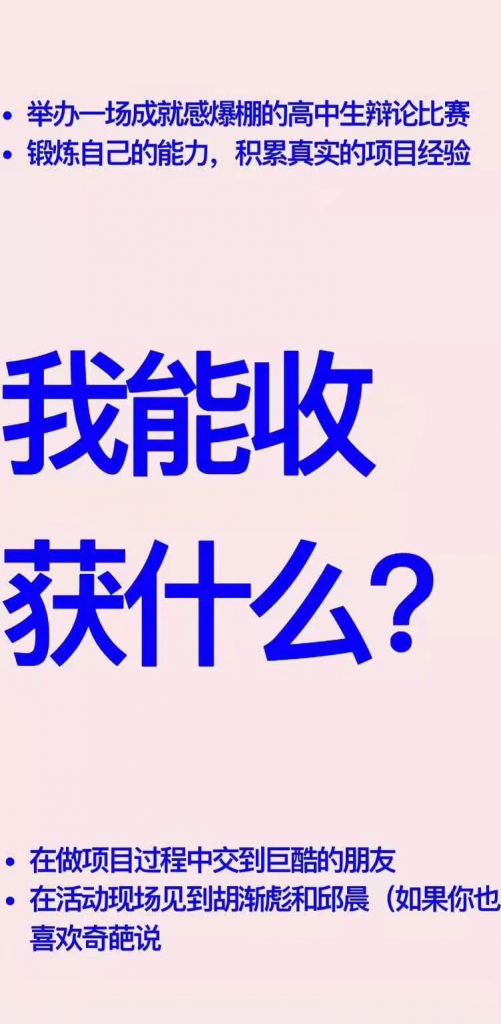 选拔辩手 Debater Selection
这一场活动的定位是一场高中生跨校辩论赛,为了举办这样一场活动,我们需要在全北京的高中生中发布招募并且邀请他们来参加选拔。从报名的高中生中选出最后8个参加最后的辩论赛。
This activity is positioned as a cross-school debate competition for high school students. In order to hold such an activity, we need to recruit high school students all over Beijing and invite them to participate in the selection. From the high school students who have signed up, the last eight are selected to participate in the final debate competition.
我们发布了招募辩手的文章,最后成功在1个星期之内招募到了50位候选人。可以点击下方链接阅读招募文章:
We posted one article about debater selection, and we got 5o candidates in one week. You could click the link below and read the article: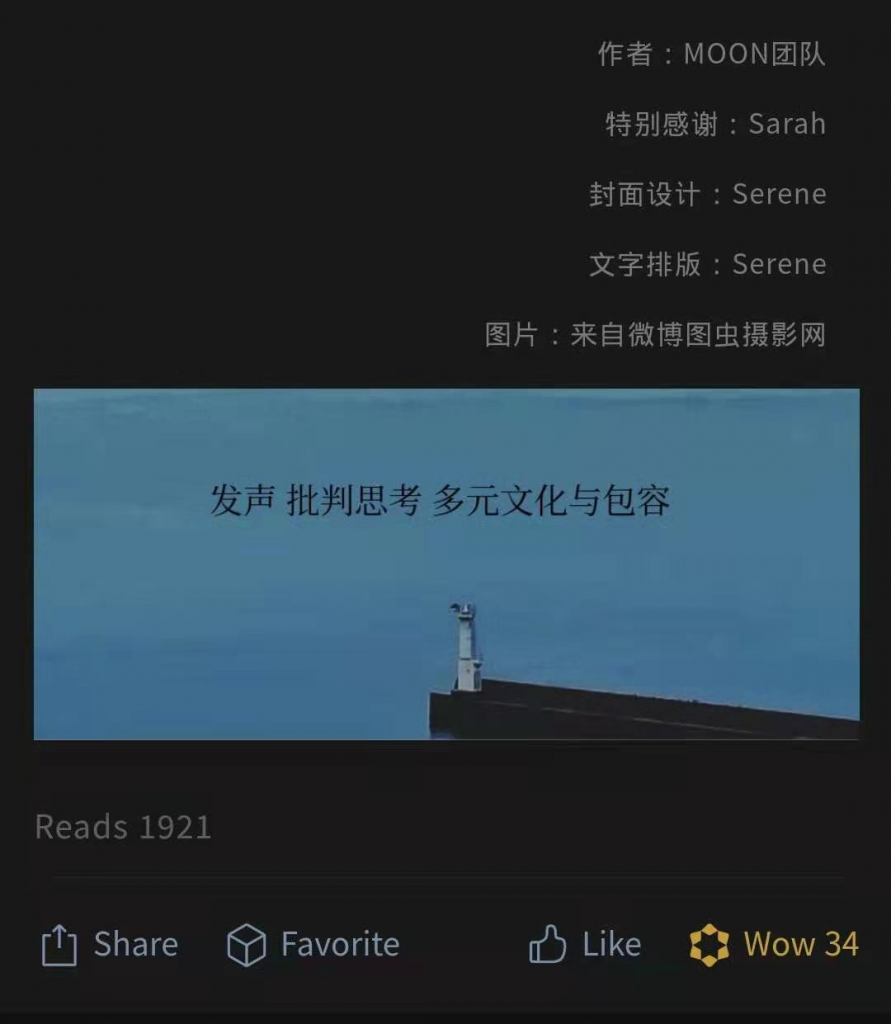 辩手培训 The debater training
因为和专业公司合作,所以专业公司会有专业的人来帮助筛选辩手,通过综合打分最终选出了8位辩手。
Because we cooperate with professional debate company, so they will help us to select the final 8 debaters.
后续辩手也会有专业的老师带着培训,为最后的辩论赛做准备。
The subsequent debaters will also be trained by professional teachers to prepare for the final debate competition.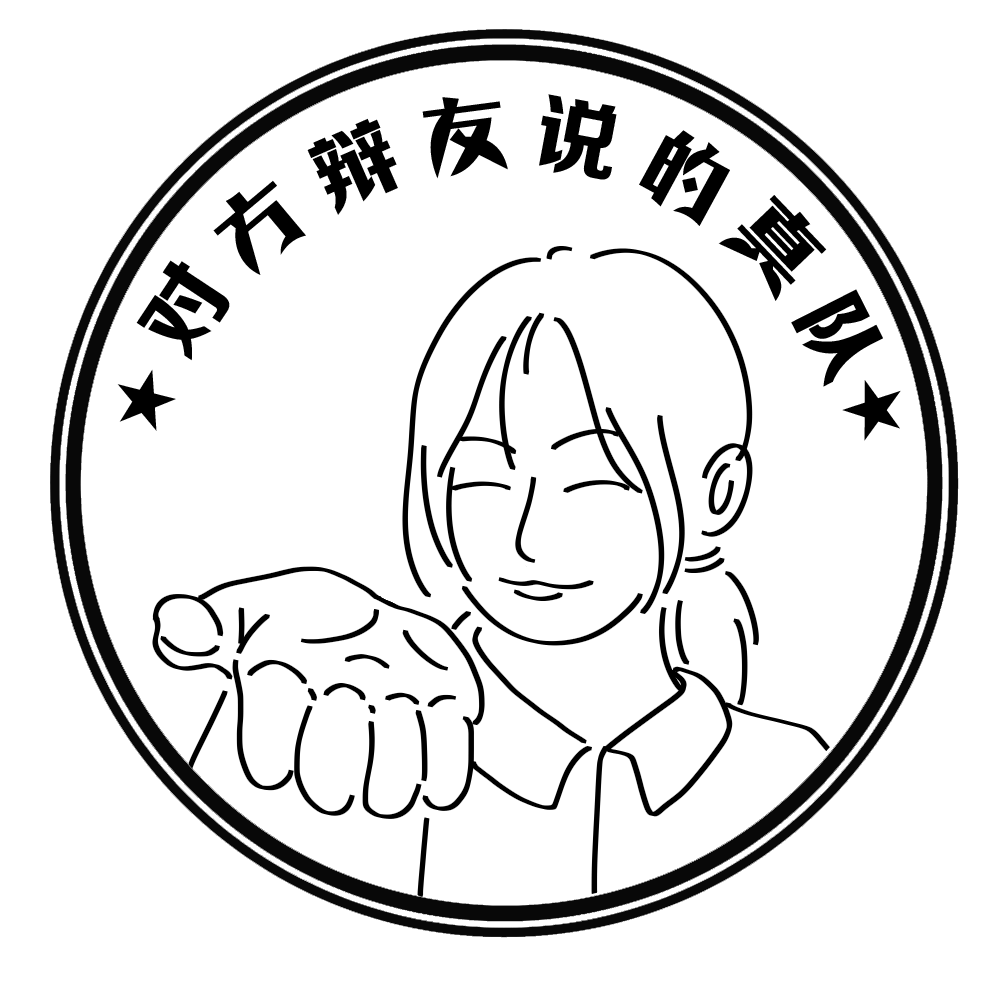 活动设计 Activity Planning
这是我第一次设计辩论活动,和之前演讲还是非常不一样的。不过好在我设计活动已经有了经验,这一次设计起来也没有太困难。但是我会希望这一次的活动呈现出来是有趣的。而不只是一次普普通通的辩论活动。所以我花了很多心思在营造一个Gap Day的氛围出来。
This is the first time I've ever designed a debate, and it's very different from the previous speeches. But the good thing is that I have already had experience in designing activities, and this time it is not too difficult to design. But I hope this one will be fun. It's not just an ordinary debate. So I put a lot of effort into creating a Gap Day atmosphere.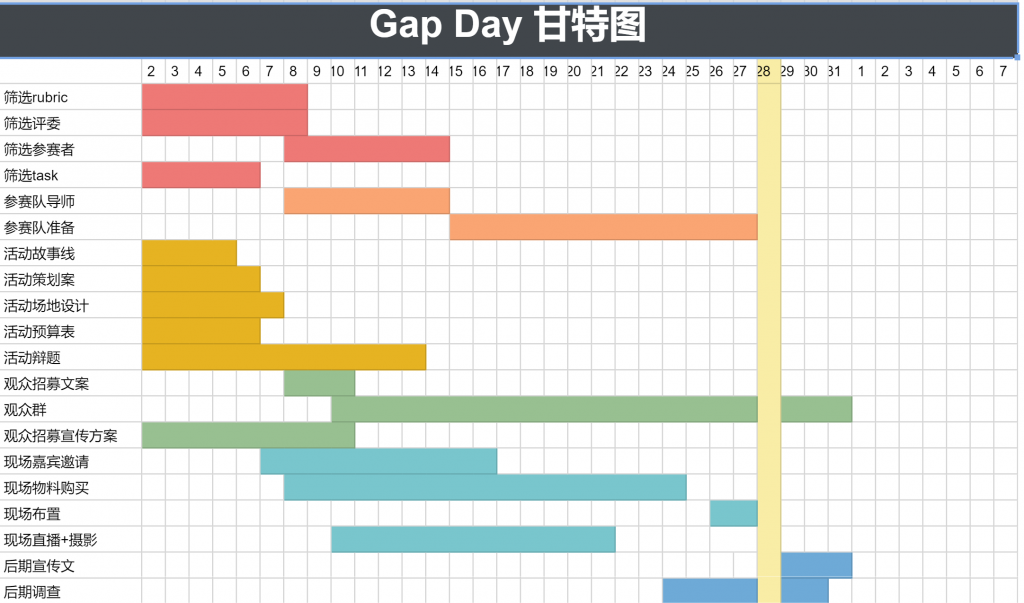 如果想要了解更多活动策划,可以点击下方链接查看
If you want to know more about activity design you could click the link below:
当我在设计活动的时候整个活动的设置就好像是观众进入了一个平行时空,在那里他们有完全空闲的一天。所以活动的开场是一个脱口秀,代表大家来到一个新的平行世界的好奇。第二个环节是辩论,代表大家来到平行世界以后的纠结,平行世界那么好,是否要选择回到原本的世界里呢?
When I was designing the event, the whole setting of the event was as if the audience had entered a parallel time, where they had a completely free day. So the event opens with a stand-up show that represents curiosity into a new parallel world. The second part is the debate, which represents the dilemma after we come to the parallel world. The parallel world is so good, should we choose to return to the original world?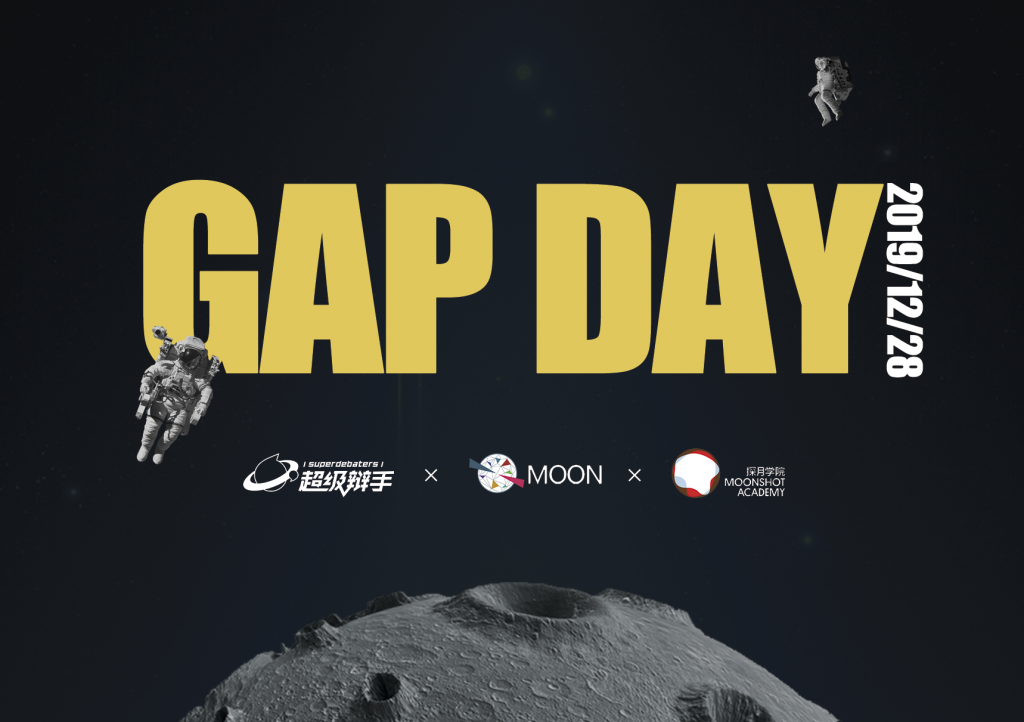 这也就引出了我们这一次的辩题:
And here is the debate topic below:
你愿意 / 不愿意放弃剩余寿命,换来10年自己想要的生活?
你是一个即将40岁的中年人,家庭、工作的重担压得你喘不过气来。年轻时你也曾有过梦想,关于旅行和摄影,关于诗意和远方。但生活的压力,社会的约束,仿佛画出了难以逾越的边界,让你的人生陷入僵局,逐渐窒息。
这天你照例在深夜入睡,却在一个平行世界醒来。在这里,你的一切梦想都成为了现实,你不必再担心任何物质和世俗的桎梏,可以尽情地过自己想要的生活。在一天将近时,你被告知今天只是你的一个体验版GAP DAY,很快你就要被送回原本的世界。而若要永远留在这里,你将只有10年寿命。
你,会做出怎样的选择?
Are you willing to give up the rest of your life for the 10 years you want to live?
You are a middle-aged man about to turn 40. You are overwhelmed by the burden of family and work. You had dreams when you were young, about travel and photography, about poetry and distance. But the pressures of life, the constraints of society, seem to draw an insurmountable boundary, so that your life is stuck in deadlock, gradually suffocating.
It's the day you go to bed in the middle of the night as usual, but you wake up in a parallel world. Here, all your dreams have become a reality, you do not have to worry about any material and secular shackles, can enjoy their own life. At the end of the DAY, you're told that today is just an experiential Gap Day and that soon you'll be sent back to where you started. And to stay here forever, you only have 10 years to live.
What would you choose?
招募观众 Audience Recruitment
但辩手和活动都策划完成了以后就该招募观众了。因为已经有之前举办活动的经验了,这一次观众招募已经比较熟练了。
When we finished the activity plan and debater selection, we moved to audience recruitment stage. Because we have held several activities, so that we are sophisticated with that.
发布招募文章
联系合作方转发
联系KOL转发
Post article
Asked cooperater to do publicity
Connect KOL to post on their social media
除了非常硬核的观众招募软文,我们还和北大附中的verge杂志合作发布了一篇招募文章。
This time, we also cooperate with Verge (one student-led magazine in BDFZ) posted one article.
大家可以点击下方链接查看 You could click the link and read
这算是MOON这个品牌做过最正式的一次活动了,所以这一次活动有一整套的VI.
This is the most formal activity MOON has ever done, so this activity has a whole set of VI.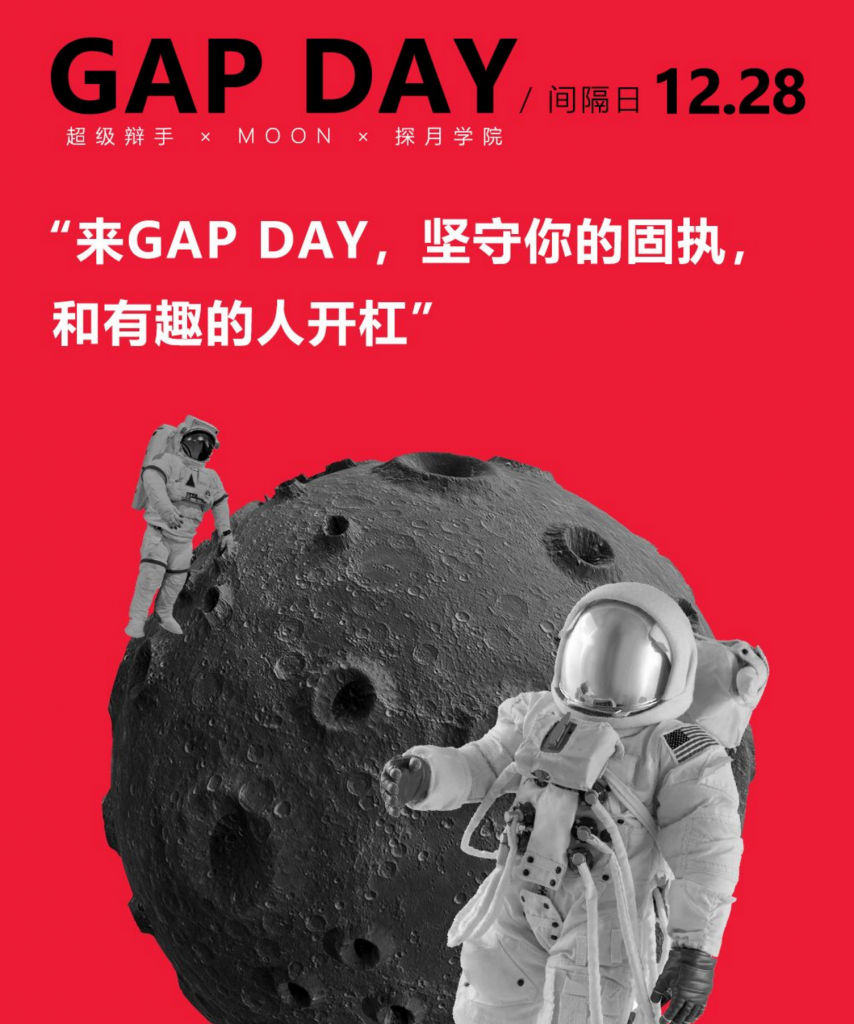 2. 活动当天 Activity