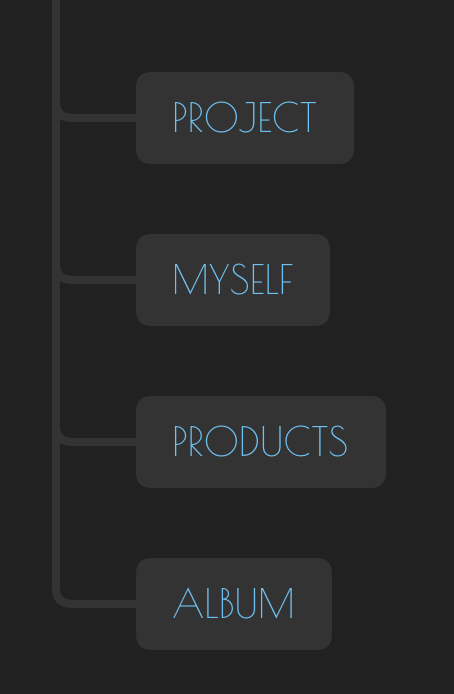 About Project
Setting Goals
We had two major Project Goal evaluation meeting (0327, 0512).
At March 27th, we still hadn't realized the extent of impact the corona-virus quarantine would have on our project. Here are the plans that people were asked to choose from:
Realistic Options for June 15th
| | | | |
| --- | --- | --- | --- |
| Option | Worst case June 15th6月15日前最坏情况 | Best case June 15th6月15日前最佳情况 | What happens after June 15?6月15日之后我们如何继续? |
| A | A prototype finished and 10% of solar panels on the roof. We have a course plan for putting solar on the roof. | Get prototype workingand install at least 250sqm (50%) on roof, have a course plan finished a finished business case we can give to schools. | |
| B | Get prototype workingand install at least 250sqm (50%) on roof. We have good documentation on the project, but no course plan ready to sell. | Achieve 100% solar energy (or other ways to get carbon neutral). We have good documentation on the project, but no course plan ready to sell. | |
| C | We have some kind of solar device, either prototype or a small roof installation. We have a finished business pitch. | We have at least covered 30% of the roof. We have a finished course plan and already some interested customers. | |
| D | | | We don't continue this project after we finish this semester. |
| E | | | We continue the project next semester, best option as an IP course that continue. |
| F | | | We continue the project next semester but outside classes, either by applying to the MSA Incubator or via the Maker Club. |
We still deemed that meeting offline was possible. Even the least idealistic goal was to install 10% of solar panels on the roof.
The fact was sooner or later was to be known that we couldn't come back to the campus, therefore could not even build a real prototype. Based on this realization, we had another goal orientation meeting at May 12th. By this time, there is generally one month left before the blank week started.
What are list below were the final outcome:
Finish a prototype that can charge a phone or laptop to full battery using solar
元完成一个原型,可以使用太阳能为手机或笔记本电脑充电,使其充满电
Raise 5000 RMB for a prototype
为原型筹集5000
Publish a handbook to help guide other students to launch their own solar project
制作一本手册,帮助指导其他学生启动自己的太阳能项目
Though we replaced the actual installment (installing on campuc roof) of the system by other products such as handbook, we still included the installment of prototype in the plan, which, later, we were failed again. I suppose the reason that we made an unrealistic plan twice was that we kept hoping for the best. So, if we do it all over again, I will adviced the people who are in charge of the orientation meeting agenda to hope for and plan BOTH the best and the worst.
Management
How did we distribute tasks, and meet deadlines?
Leader's group meets once a week on Monday between 5:30-6:30. During this particular meeting, leaders and coaches balance information with each other to have a big picture of our project. Through this understanding, we instantly make adjustments. For example, when we are seeing that tasks are close to be finished, lead group members would propose ideas about how we are going to divide our tasks next.
If one meeting involves too much topics to be discussed, we will divide and set deadlines for the tasks between us. For leaders, the deadlines are always quite urgent, because we need to swiftly catch up current situation. Jaguar and Jonathan, two of our team coaches, once constructed a more organised Gannt Chart structure using the similar logic of WBS (Work Breakdown Structure). The rest of lead's group including Daniel, Billy of Engineering group, and Laurence, Cindy of the finance group provided feedbacks on the updated Gannt Chart. We then held another meeting to further clarify distribution of responsibilities. For instance, we mark up the person(s) who would be in charge of a certain task. Note that the names in bold are the owner of the task. To clarify an only owner is important because this is making people more certain about their works, so that they will not be upset by different expectations, also be more responsible for their own tasks.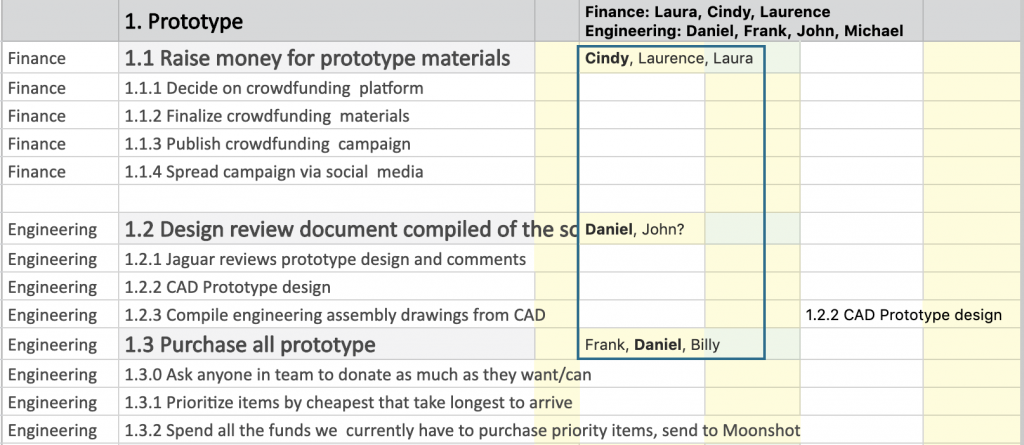 Then, engineering finance team leaders and coaches respectively draw timelines for the tasks. We usually start by setting milestones within a task (denoting the darker colours), then it would easier to complete the rest of the timeline.

What is introduced above is how we oversee the tasks. What's more, the owners of tasks check usually check progress of their tasks in check-ins – a 30 minutes' meeting between 8:00-8:30 every morning. At every Monday, our routine schedule is to check the tasks on Gannt Chart and divide the task with more details. We use Microsoft Planner to do this. Important tasks are checked with special attention. For example, some of the engineering members held a meeting to evaluate the completion of sensor rig. The team coaches and leaders, who are willing to support other members, not only give reminders when the tasks are going to be overdue, but also provide people support in any forms.
*The approach that I mentioned above is called Gannt Chart is a visualised team management tool (Click "Gannt Chart" to view our Gannt Chart).
How did we support each other when in need of help?
Feeling one's being supported is one of the most empowering experience in this project. This kind of experience need two sides: the person who asks for help, and the person who provides it. First, a person who is not afraid of admitting his or her own weakness, and is out of the bettering of our team and project is a prerequisite for this experience. Also, one who is out of compassion and the same motivation as the former does is readily to provide help. Here are some memories that we have:
How to leaders hold periodic reflections?
Minor reflections happen every Monday in leaders' routine meeting, where we have informal reflections for the passing week(s). Based on these reflections, we construct actions plan for following days.
However, a formal reflection meeting is critically required sometimes. At the beginning of the project, in addition to the form of online collaboration, all of us are not farmiliar with each other, which made our collaboration and progress even more unproductive. So, one of the leaders proposed the idea of a formal reflection meeting to reflect on the teamwork.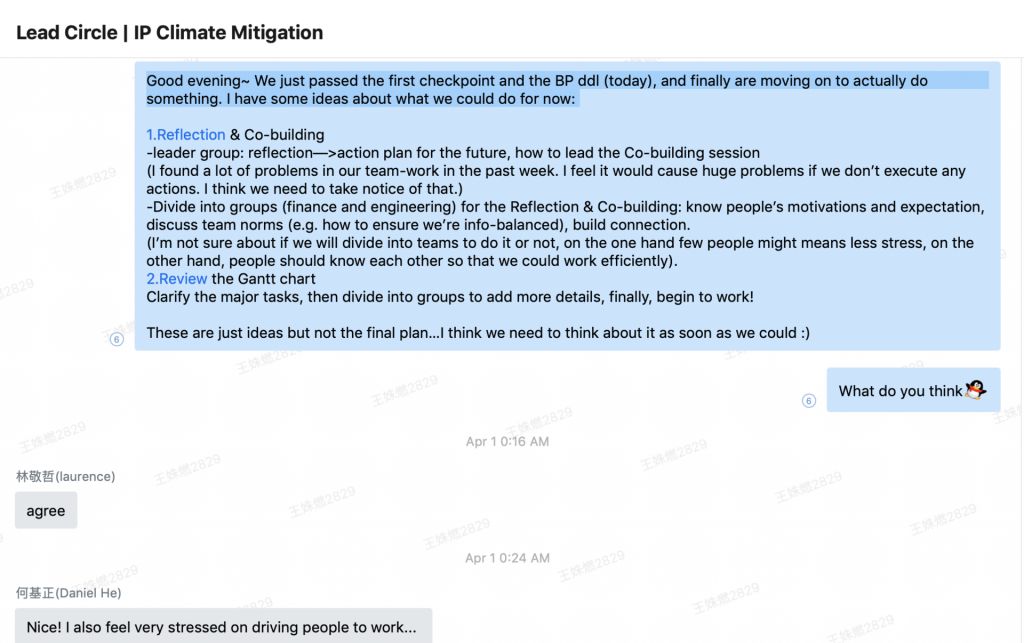 Leaders and coaches realized a bigger picture of the issue (teamwork) and settled matters such as the co-build activity for the whole team. Click into the link: Leader's Reflection Meeting at 2020/4/6 to see more details. Other team reflections: 0410
Documentation and Assessment
During the project reflection session, together we made a general project timeline. All of our documents, evidence, including this timeline, are this shared shimo folder. When the project just started, we used Microsoft OneDrive. Although Jaguar and Jonathan instructed us in such details about how to download related applications, I personally didn't get used to use OneDrive before we transform the documentating platform into shimo. Shimo is easier to operate, and in which people could see who are editing at the same time (so that we could remind people to focus on the task). I suppose we should brainstorm some "must-dos" before the project officialy starts, where we could have thought about the improtance of documentation. Then, leaders could arrange a short platform research session.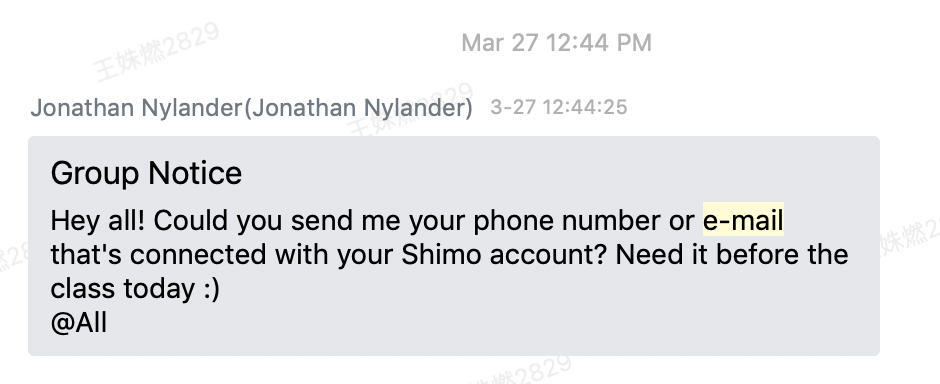 As for the assessment, Jaguar and Jonathan is in charge of designing the weighing of different sections, which could be tracked in Master Plan. On the other side, we, learners, link our evidence in Matrix. When we link photos and sections in individual folders, the block of the corresponding skill could be truned green. The project coaches verify the skills by turning the green boxes into blue, meaning we have reached the advanced level. The evaluation is not only being counted in GPA, but also a great approach to review a semester-long work, receive feedbacks and future improvements.
Roles
The kick-off meeting of Climate Mitigation should be the first lead group meeting. The leaders are who either volunteered as leaders, or encouraged by the coaches to be leaders. Leaders have been adjusting our roles. We were initially responsible for planning check-ins and IP sessions, later, we found the working pattern was inefficent, and that when the project progressed, people need more working time. Gradually, it had became a routine where Jaguar and Jonathan facilitated the check-ins, and us (learner leaders) lead the working time in seperated groups.
In the coaches' mind, the project could be divided into three sections: Engineering, Finance and Public Relations&Documentation. While Billy and Daniel were the leaders of Engineering team, Laurence and Yang are the leaders of Finance. When we guadually gained more knowledge about what our works looked like, we merged the Public Relations&Documentation section into Finance. Firstly, we only have seven persons in finance group. Also, applying donors' investment or raise crowdfunding could not be donw without PR&Documentation.
Coaches
Jonathan, Jaguar and Lidiia were Climate Mitigation's project coaches. While Jonathan worked along Finance group and Jaguar worked in Engineering group, Lidiia was our fund-raising expert, our special guest.
To extend what are described above (it became a routine…sperated groups), coaches seem didn't provide us too much "visible support", but rather many "invisible support" like encouragements and conversations. In the middle of the project, when we encountered many tensions in teamwork, coaches were defining their roles as well. Jonathan felt that he had taken part in our work too much, considering how to reach a balance between autonomy and control.
Through the conversations with Jonathan I realized that coaches were similar with us–trying to find weakness and seeking to break through the obstacles or comforst zones. These are what learners comment on coaches concern and the coaches themselves:
"老张在学期末的时候和项目开始的时候很不一样了,我觉得老张更愿意去带领我们,在团队组织里参与了更多。老张有的时候会担心自己做的太多了,不过我个人觉得没什么问题,因为当老张和抱抱去更多的带领团队的时候,我其实有更多的安全感,也感觉团队是更稳定的。"
"Lidiia是一个我们找反馈一定会去的地方,每次给的feedback都很有建设性,我觉得是一个很会从其他角度去看待我们项目的人,这个人我觉得也是非常重要的,有了这个人之后我, 才能用不同人的角度看待一个问题,有了不一样的效果和解释。"
"Dude I am so grateful that you were here to support us and give much feedback to our project. I was tripped out when I led the team to design the full system. It was you that inspired me and pushed my primative thought on the final system. Also, you did a great job answering a lot of questions raised by us. I would remember the time that we discussed the battery stuuff during the late night. In general, thx Jag!"
People
What are the advantages and disadvantages as a really big project group?
Climate Mitigation project group has the most people than other IP projects–we have fifteen learners and three project coaches. Though it seems that the disadvantages are brought by the self-identification of big project group, the truth st more complicated than that. Here, I am only trying to do a brief analysis, which might not include the full picture.
In two different perspectives, we are both a big and a small project group, which respectively bring forth advantages and disadvantages.
As a big project group–

Hard to manage and communicate
The motivation of joining the project varies between individuals. The larger the people, the harder it is to form private environment to have deeper communication. Without connection and trust being built, it was harder to have effective team management, such as making sure to follow the deadline. This situation is heightened by the irreversible online-working environment, the unfamiliarity between new learners (2019) and founding learners (2018). Particularly, when there are learners who had not discovered deep motivation for this project, on the one hand we need to proceed the challenging project speedily, on the other hand building connections with those learners and helping them to find motivation are necessary for proceeding the project, which cost great energy and time.
e.g. see Leaders' Reflection Meeting Note.
There were some moments when almost all of our people are feeling engaged. It was especially happy and silly when we were having the first kind of party, for example, when telling embarrassing project experiences and having the final project celebration.
As a small project group–

We need more people to do the works
As a group of inexperienced learners, especially in finance, who were doing a really challenging project with limited time, we need more people to do works, so that we could proceed more tasks at the same time.
How do we collaborate online during quarantine?
Discussing online collaboration norms

Turning on camera
Be focused
Often we find that being focused, which is an essential element to ensure productiveness of working and meetings, is a challenge of collaborating online. Since we couldn't see each other, we don't have peers to remind us of being focused. Therefore, during leaders' reflection meeting, we came up with norms, which are listed above.
However, we didn't stick to the first norm for a long time. While most people refused to turn on camera, others later quitted turning on camerca as well. This is a thing that we all need to reflect on. Here are the reflection blogs.
How to build connection within team when there is none?
Sense of achievement encourgaes people to strive for more achivements. When this happens, it means that people who originally do not farmiliar with one another start to serve one goal and work beside each other. During this process, we encounter predicaments, deadlock and conflicts. Yet, the moment when the conflicts are resolved would be one of the most impressive team moment being remebered.
Next, having relaxing co-build activities is another method. Activities such as doing sixteen personalities test, making memes, celebrating mistakes, are where we share happiness together.
In a nutshell, having "team moment", some memories that we share together, is the key to this question. This approach is effective when it is either embedded with authentic situation (having achievements), or happen in a relaxed atmosphere (e.g. don't arrange co-build activity when most people urgently need working time).
How did we manage conflicts and tensions?
There are three principles (not the order of significance):
A) Compassion. Believe eveyone is not simply what we are seeing them to be when the conflict happens. For example, if one seems to have done some "bad thing", the person is not "bad". But that he did that out of some reasons. As long as we realize what that is, we could then evolve the team based one these feedbacks.
B) Open Communication. Some members of our team are concerned because some members do not communicate openly. This made teamwork at first largely ineffective. Nevertheless, we also benefit from open communication — there are always some members who care about open communication, so we are gradually approaching to the ideal situation in our mind.
C) The bettering of our project (progress) and peole (connection). We do not afraid of admitting each's own defects. This could be seen in our tradition of celebrating our mistakes.
Why we need to do feedback, blog, and sweet/吐槽 box? How did we do these?
There are the three traditions of us: giving feedback, writing blogs and building sweet&吐槽box.
Since everyone could only see small parts of the full picture, giving feedbacks to each other provide opportunities to see bigger picture of both oneselves and the team.
We write blogs on personal websites, which are gather in one shimo chart shared to everyone in the project. Jaguar, our team coach, provides us feedbacks on the blogs. Blogs function as a carrier of our memories for us to refer to in the future. In addition, we sometimes are too shy to share things "face to face". But in blogs, we could freely take down our ideas and/or reflection of the past week. This kind of communication becomes more spontaneous and natural — someone who might accidentally clicks into one link, feeling the writers' thinking is interesting. Accordingly, this is one way to build connection and see bigger picture as well.
Sweet/吐槽 box functions similarly with blogs. The difference are:
the people to feed ideas into the box could be anonymous.
we are reading the thoughts together, so it provides an opportunity of a team moment, and also gives more constant feedback.
How did we model effective collaboration?
Thanks to the obstacles that we have encountered which stimulate us to seek for better situations and solutions, an ideal collaboration situation is accordingly formed.
Sstrong inner motivation/stimulus of working on this project
The behaviors are only the surface of a person or a team — it is the inner world that affect the behaviors. So, without motivation and interest, any outer incentive, such as any rewards, only produce short-lasted impact.
Open communication between members
This stands on the perspective of team management. Different parts of the team only possess part of view of the project. In order to see bigger picture, to check the progress, and to instantly orientate the project, sharing information to other parts of the team or indivuduals is crucial.
Personal connection with other members in the project is a way to empower an individual. The moments when the "sense of team" appeared are always parts of the most impressive and productive periods.
Notably, The obstacles are listed above (before this part) in the form of questions. Yet at this moment, I believe it is necessary to provide a definition to the model of ideal, or effective collaboration, a brief summation of our semester-long teamwork and an expectation for the future.
About Myself
In 200's Eclipse, I have been continuing to push myself into what have been underlying challenges in my life.
Trueness (including open-communication) is one of the most important values in my life. I will not describe it here since it is a project reflection blog, but that I will discuss how I demonstrate "trueness" is a special value to me through the project experiences.
Since "trueness" weighs a lot to me, I was afraid that I could not maintain expressing my true self and daring to express myself openly when needed, because I'm not used to doing this with people whom I don't feel deep connection with. I feel that I am isolated because most people could not see me as a soul but rather a thing where their judgment could freely impose on. I don't want to work with people who would judge me harshly without their realization–and this was the reason that I wasn't so readily to join the team (or any other teams). On the other side, it justified the reason why I joined the team. I knew the project coaches are Jonathan and Jaguar, whom I felt are not among the kind that I was against.
I was afraid also because I knew a well-operated project requires fluent teamwork, which requires open-communication. Without it, as what I had expected, conflicts would erupt after a period of tension. I believe conflicts ripped apart the inner world of the two sides who are having the conflict. The most dangerous conflict happened at March 24th, a night before the first checkpoint. K, Y and me were the two sides.
Before that evening, leaders had felt the invisible resistance which prevented us to work in a most fluent and productive way; however, we weren't able to touch the obstruction. Team members seemed also want to express something, yet, the major speakers during meetings were always the facilitators: the leaders or coaches. There are not only underlying tensions within learners, but also with coaches. Lidiia, who was our special guest of fund-raising, sought to teach financers theoretical knowledge; however, we all earnestly wanted to start to do some practical things. So I was always the one who mediate in this conflict. Sometimes I sent long messages into the group chat to clarify things. Yet, I felt really confused and hurt because sometimes Lidiia were not responsive enough. Alhough I felt being opressed by both sides (learners and coach) and having no deep communication and responses, I sought to communicate the tasks as clear as I could, and collect feedbacks during each pauses in the meetings.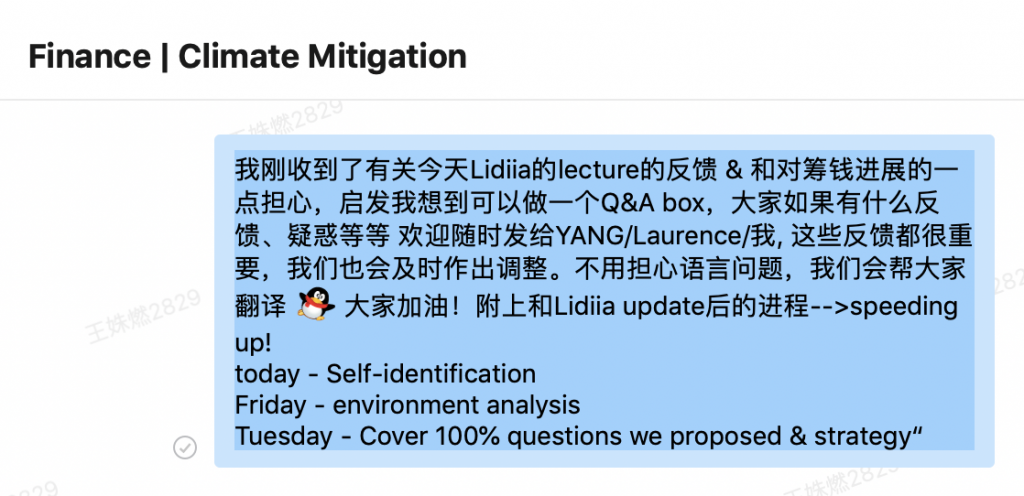 In some circumstances, deadlines were especially useful in pushing communication and elevating productiveness. The conflict was triggered by K's "criticizing" me for assigning invaluable task. The very task was proposed by Jonathan, which I had asked for their feedbacks for more than one time during meetings. There were not any responses though. I was new to facilitation, so on the one hand I felt embarrassed when not being responded for so many times, on the other hand I felt angry because for weeks nobody expressed their thoughts without consistent nagging. I knew it's time to break through the invisible obstacle by directly expressing my thoughts. In return, K and Y edited long messages as they had never before in response to me. See the conversation here. Personally, I think it was the first and the most major breakthrough in teamwork. To respond to what I mentioned in the beginning, I expressed myself and pushed others (the team) to express themselves, therefore my wish of "trueness" is guarded.
Besides this experience, I sought to communicate openly with another member of the finance team, L, who was my old partner. Somehow, L gradually got less active in participating in the team works if compared with what L used to be. When we were writing the film script for project concept video, L didn't enter the shimo document until the meeting has started thirty minutes. I reminded L twice, but since I was preparing APs, I was too tired to nag somebody again. Therefore, I deemed it even harder to proceed with the work, which made the meeting more unproductive. Later, I somehow clicked into her links documented the script writing experience; in which I found her words really hurt. It scared me because I didn't think L would deal with things like this, making conclusions more exclusively rather than more inclusively. In the feedback sheet, I chose to talk with her through it; therefore I wrote thus: https://shimo.im/docs/47kgJ2mZ0ghPawqV
I reminded her to read feedbacks. L told me that she didn't dare to talk with me because she assumed it would an ineffective communication. We had a short talk on WeChat, and we made an appointment that we would talk in further detail after the defense.
I saw L's weaknesses, and I felt my power of being true is able to inspire others to sharpen their inner eyes–to talk with me with the true selves. Having made those choices, and strengthen my determination to be "true" and daring, other improvements, such as facilitation, where I have improved surprisingly, (I suppose) are only a matter of time.
Products
which involved my engagements
<–Slide–>
| | | | | | | |
| --- | --- | --- | --- | --- | --- | --- |
| 分类 | 产出名称 | 参与时间 | 参与者 | 链接一 | 链接二 | |
| Marketing | Film | 4月23日 | | | | |
| Marketing | Film Script | 4月19日 | Jonathan, Cindy, Laura, Laurence | https://shimo.im/docs/dGDkHYgVhCH9Jq3p | | |
| General | Project Description | | Laura,Aimee,Cindy,Yang,Laurence、Kolento、Clef | https://shimo.im/docs/zvk9d8B7vdTdFnq2 | | |
| Project Management | MASTER PLAN | 3月 | Everyone | https://shimo.im/sheets/VOAWVaW1y8H8FYkZ/sPums | | |
| Project Management | Climate Mitigation Leaders' Meeting | 4月6日 | Jonathan, Jaguar, Daniel, Billly, Laurence, Cindy | https://shimo.im/docs/Ne3NVKlygKuOF93O | | |
| Finance | Meeting with Bor Hung, manager at Malaysian solar panel installation company | 4月10日 | Lidia, Jonathan, Cindy, Laura, Jaguar, Yang, Kolento, Aimee, Laurence, Clef | https://shimo.im/docs/bn3j8r6Ly2swFEk2 | | |
| Finance | User research PBL | 4月12号 | Laura,Aimee,Cindy,Yang,Laurence、Kolento、 | https://shimo.im/sheets/PHKxHgGVJtK8d9Wg/MODOC | https://shimo.im/sheets/CrD3t8HQqKQTtvJq/MODOC | |
| Finance | Finance Research | 3月6日 | Laurence, Cindy, John, Jerry, Michael, Laura | https://shimo.im/docs/3qv9yqPWGvgQkqY6 | https://shimo.im/docs/ktQHJrtkWPVdjTcH | |
| Finance | Strategy Discussion | 3月17日 | Cindy, Kolento, Laura | https://shimo.im/docs/9cwjPYrXhwRpxwdt | https://shimo.im/docs/YJA1MEvXB0UYFPAM | |
| Finance | Fundraising Stategy – Structure | 3月17日 | Laurence, Laura, Aimee, Cindy, Yang, Kolento | https://shimo.im/mindmaps/6GkQH89DTX9HpWxd | https://shimo.im/sheets/XRkgJ28pp1TrFbqM/MODOC | |
| Finance | Fundraising Stategy – ppt version | 3月20日 | Laurence, Laura, Aimee, Cindy, Jonathan | https://shimo.im/slides/XRkgJORQ1mUrFbqM | https://shimo.im/slides/xlkbEZGP2yh9F9q8 | |
| Project Management | Leaders' Reflection | 4月6日 | Cindy, Daniel, Billy, Laurence, Jaguar, Jonathan | https://shimo.im/docs/Ne3NVKlygKuOF93O | | |
| Finance | MSA investment – social impact research | | Cindy, Jonathan | https://shimo.im/docs/7Q3QyYzZp9T1FD3n | | |
| Finance | MSA Proposal | | Cindy | https://shimo.im/docs/dOq5MZ7vG2TdFDql | | |
| Finance | MSA investment ppt | | Cindy | https://my.moonshotacademy.cn/cindy-ran/wp-content/uploads/sites/12/2020/06/Climate-Mitigation-Project-Proposal-v.pdf | | |
| Project Final Product | Handbook | | All | https://shimo.im/docs/8l3aVWl0EKc9F2qy | | |
Album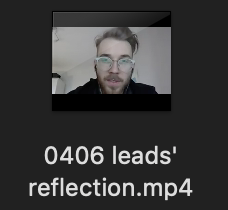 Thank you all, climate mitigators, who once sought to communicate with me openly. Thank you all in the leads' group especially for making one of the best teamwork memories possible 🙂